Banned
Join Date: Jun 2006
Posts: 4,466
Mir wants Kongo not Nog
---
Well this is from his won camp
Quote:
Yesterday TAGG Radio reported that one-time UFC heavyweight champion Frank Mir (10-3 MMA, 8-3 UFC) will likely face Antonio Rodrigo Nogueira (30-4-1 MMA, 1-0 UFC) in his next fight. However, according to Mir's own camp, up-and-coming heavyweight Cheick Kongo (11-3-1 MMA, 4-1 UFC) may also be a possibility.
After learning of the rumored Mir-Nogueira fight, MMAjunkie.com (
UFC news, MMA news, UFC rumors, UFC gossip, fighter interviews and event previews and recaps - MMAjunkie.com (formerly UFCjunkie.com)
) contacted Mir's business manager, Dean Albrecht, late last night.
Albrecht is one of the sport's friendliest and most professional managers, but much to the chagrin of nosy MMA writers, he doesn't leak fight bookings until the UFC officially announces them. When asked if the Nogueira-Mir bout was official, Albrecht assured us it wasn't.
"No official announcement," he wrote to us. "We are hoping for Kongo first. He called out Mir. I think he deserves it."
While Nogueira was quickly deemed a huge test for Mir, Kongo has emerged as a legit threat himself. After posting a stunning upset of Mirko "Cro Cop" Filipovic earlier this month at UFC 75 (while showing a much-improved ground game), the Frenchman has emerged as a top-10 heavyweight in many fighter rankings.
Kongo's lone blemish on his UFC record is a close, split-decision loss to Carmelo Marrero at UFC 64. His victories have come against Gilbert Aldana, Christian Wellisch, Assuerio Silva and Filipovic.
For more information about this story, check out yesterday's post.
He wants the guy with the terrible ground game. Surprise Surprise....
---
Sounds like Mir's camp might be a weeee bit intimidated but a fight vs big nog. I'd actually rather see him go up against Kongo, since I believe big Nog would own him.
---
mad props: Toxic
Quote:
Originally Posted by Apecity
Sounds like Mir's camp might be a weeee bit intimidated but a fight vs big nog. I'd actually rather see him go up against Kongo, since I believe big Nog would own him.
Seems like Mir feels the same way as you.
Flyweight
Join Date: Jun 2007
Posts: 451
mir is not only a fighter but a commentator, he knows he matches up way better vs kongo, where as nog does everything mir does but better
Frank is still more fighter than he is commentator. He needs to give a solid 3 months of training his ass off and he'll put up a good fight. I think he could beat Kongo...not so much Nog.
Megaweight

Join Date: Apr 2006
Location: Everett, MA
Posts: 5,961
The sad thing about this whole Crocop/Kongo thing is that Mir would probably own Kongo.
---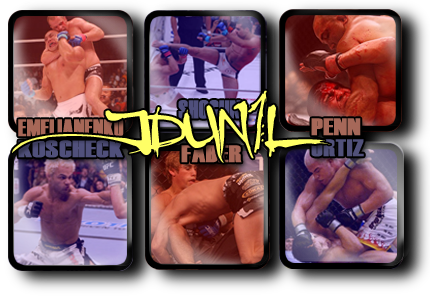 Mancrushes
1.Shogun
2.BJ
3.Fedor
4.Kos
5.GSP
Im in Porno's
ohhh so Mir just wants the guy he knows he can take down and beat...what a suprise...I hope if they fight Kongo KO's his a$$..
I think I'd rather see Kongo vs Nog. With Kongo's improving ground game ,training with Rampage, Nog might have a hard time taking Kongo down and Kongo is likely to get a few good punches/kicks/knees in. I still think Nog would win easily but to me it's a more interesting fight than mir-kongo or mir-nog.
Banned
Join Date: Apr 2007
Location: Montclair, NJ
Posts: 11,605
Nosibig what improving ground game he got mounted by Mirko "I only want to defend myself on the ground" Cro Cop. Kongo is going to get submitted first round if this fight happens. seriously as long as Kongo doesn't kick his head off in 2 seconds Kongo will be on his back getting ready to be tapped by an armbar in the first minute.
Currently Active Users Viewing This Thread: 1

(0 members and 1 guests)
Posting Rules

You may post new threads

You may post replies

You may not post attachments

You may not edit your posts

---

HTML code is Off

---