Most difficult win
---
Which fight sticks out in your mind when it comes to the victor overcomming the most obstacles to win. Obstacles meaning injuries ( before or during the fight), the sheer ability of the victor's opponent, or being able to turn the tables on a horrible situation ( like Hughes vs. Triggs II ).
---
Let's Bang!
Sylvia getting back up after taking a shot like he did and destroying Arlovski just seconds later. That was insane!
I eat babies
Join Date: Jul 2006
Location: Troy, Ohio
Posts: 7,647
Frank Shamrock vs. Tito Ortiz was one because Frank was on his back virtually the entire fight, then he finally gets up and hits Tito about 4 times in the head and that's it! Frank wins! Pretty cool fight.

Another one is Rich Franklin vs. David Loiseau because of the fact that Rich had a borken foot and a broken hand and still beat the shit outta the Crow for 5 rounds. I gotta give credit to Loiseau to for hanging in there and not giving up. Great fight.
Flyweight
Join Date: Jun 2006
Posts: 222
Hughes/Trigg 2 would be the one that stands out for me but I also think about Fedor getting suplexed om his head by Kevin Randleman and a minute late submitting him with a kimura.
---
"and then I look up and they still be wearin the same sh*&t they be wearin"
Charlie Murphy from the Prince episode of "Chappelle Show
Megaweight

Join Date: Apr 2006
Location: Everett, MA
Posts: 5,961
in the ufc i gotta say gsp against bj was pretty good, and in pride nog coming back and submitting crocop was awesome
---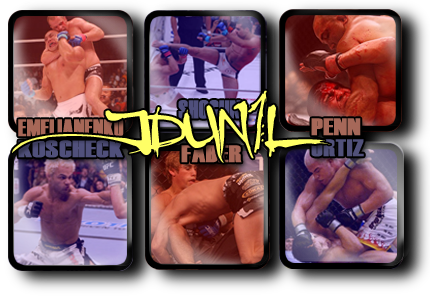 Mancrushes
1.Shogun
2.BJ
3.Fedor
4.Kos
5.GSP
Im in Porno's
Stephan Bonnar/Forrest Griffin instantly came to my mind when I saw the title of this thread. These guys could NOT beat each other, and they were trying to take each others heads off until the last second of each bell (even a second after at one point, lol.)

As JDunn mentioned, at UFC 58: Canada vs. USA, Georges St. Pierre made a huge comback in the last half of the second and third rounds. His face was busted to shit, and even though it looked like BJ won physically, Pierre made a dominant comeback and clearly outpointed BJ.
For me it is Hughes vs Trigg 2 also nothing is harder than being able to come up from a BUSTER like that and then win.
---
Romans 14:11-12... 11It is written: " 'As surely as I live, says the Lord ' every knee will bow before me; every tongue will confess to God.' " 12So then, each of us will give an account of himself to God. May God Bless us all.www.mmaworld.org
Hughes vs Trigg 2 was definitly sticks in my mind! Hughes gets out of a rear naked choke and slames. Then he puts Twinkle Toes in the RNC to beat him. Another one is Koscheck vs Fickett. Fickett was getting owned by Koscheck until he throws a punch and rocks Lay and Pray. Then Fickett chokes out Koscheck for the win!
Currently Active Users Viewing This Thread: 1

(0 members and 1 guests)
Posting Rules

You may post new threads

You may post replies

You may not post attachments

You may not edit your posts

---

HTML code is Off

---