LIE or DIE
Join Date: Nov 2006
Location: Winnipeg
Posts: 1,931
Fedor, Sokky, Lil' Nog, and the top 10 for the LW division would be nice.
---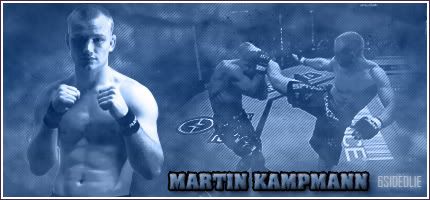 TEAM LORD:
1. Antonio Rodrigo Nogueira
2. Nate Marquardt
3. Goran Reljic
4. Amir Saddolah
RANKING: TBA
TOTAL POINTS: +TBA
MMA Fanatic
Join Date: Aug 2006
Posts: 27
Randleman - HW gatekeeper
Gomi - Immediate LW contender and should fight Penn for vacant belt
Fedor - So Randy can cement his own legacy as having been the only one to have fought the best in their prime
Miller - WW is stacked, but Miller and Karo are great gate keepers to the upper tiered talent
Melendez - Why not, the guy is awesome
Flyweight
Join Date: Oct 2006
Location: Kitchener, Ontario, Canada
Posts: 378
There are tons of guys that could spice up the MW division. In my opinion only about 4 - 5 guys are quasi-legit in the UFC MW division currently.

Anderson Silva - Amazing
Rich Franklin - alright (best the UFC had to offer)
Yushin Okami - alright (I think would beat franklin if he put the heat on earlier)
The rest are just lightyears behind.

Add to the already listed people:
Frank Shamrock
Renzo Gracie (not the greatest, but beats Ed Herman for goodness sakes)
Matt Lindland
Filo Paulo - wec
Kid
Aoki
Kang
Move Hendo down

then you have something to talk about!

With other divisions having at least 10 CLOSE GREAT FIGHTERS

HW
Randy Couture
Big Nog
Andre Arlovski
Cro Cop
Gonzaga
Herring
Wurdum
Sylvia
Vera
Mir
Kongo
- Some very interesting matches can and will happen soon.

LHW
Rampage
Hendo
Wandy
Shogun
Griffen
Jardine
Liddell
Ortiz
Alexander
Bisping
- Some VERY interesting matches I CANT WAIT!

MW
Silva
Franklin
Okami
Marquardt
McDonald
Starnes
Leben
Martin
Cote
Grove
- this isnt looking so fine...Silva murders all

WW
GSP
Serra
Hughes
Fitch
Koscheck
Karo
Sanchez

ok im done...
---
"I take pride in accomplishing the impossible"

Favourite Fighters *No Order Given*

George St. Pierre
Wanderlei Silva
Anderson Silva
Royce Gracie
Fedor Emelianenko
Mirko Filipovic
Antonio Rodrigo Nogueira
Quinton Rampage Jackson
Quote:
Originally Posted by bbjd7
O the list is so long
HW

Fedor - obviously no real reason needed

Josh Barnett - As long as he's not facing Mirko he might dominate the UFC HW divison. He has wins over both Couture and Nogueira

Aleksander Emelianenko - Don't know if it is possible since he has served jail time in Russia and I'm not sure if he could get working papers in the US

LHW

Rogerio Nogueira - Has perhaps the best ground game in the LHW divison and would benfit from the UFC rules and cage

Ricardo Arona - Another guy with an amazing ground game and he might benfit more than any other fighter by fighting in the UFC. the cage will help his world class takedowns.

Babalu Sobral - Shouldn't have gotten let go in the first place and he is right up there with Arona, Nogueira, and Shogun for the best ground games in the LW divison.

Sokdoujou - Perhaps the most explosive fighter a LHW his stand up is scary.
MW

Frank Shamrock - It'll never happen but he should be in the UFC and he should be in the hall of fame. Has one of the best chances of anyone in the MW divison to beat Anderson Silva since he is very precious on his feet.

Matt Lindland - Could give anyone in the MW divison a run and is skilled enough to fight at LHW. The guy is just really good

Denis Kang - Amazing fighter who could also give anyone in the UFC MW divison a run for their money very skilled fighter

Robbie Lawler - A Brawler who despite what Dana White says would be the 3rd best MW in the UFC MW divison if he was signed tommorow.

Ninja Rua - While he isn't a great fighter anymore he is always a fun fight to watch and is jsut as good as Marquandt and Lutter

WW

Hayato Sakurai - he just signed with Shoot Boxing and it's a shame because he would do really well in the WW divison since no one in the WW divison right now has any real stand up.

Shinya Aoki - Would fit perfectly in the WW divison with his ground game might be a bad match up for most of the top WW's though since they like to go to the ground.

Takanori Gomi - While I'm not a huge fan of Gomi he defiantly brings the fun and is top 5 at 160 now I put him at WW because I don't think he could make 170.

LW

JZ Calvancanti - Outside of BJ Penn the most talented LW in the world can beat anyone on a given day. Crazy explosive. Better fighter than Sherk

Gilbert Melendez - super talented I think best fighter right now behind Calvancanti and Penn. I think he could take Gomi and is very good

Vitor Shaolin Riberio - Only guy in the LW divison better than Penn on the ground. Can finish fights unlike most of the UFC LW divison.

Andre Dida Amade - He might not be ready for the UFC just yet but his stand up is the best in the LW divison and it's not even close. No one can really stand with Dida and not get dropped. If he devlops a ground game and Takedown defense could be unstoppable.


Note - I didn't forget Filho I just don't really enjoy watching him fight at all.

Edit - Forgot Gomi.
Nice post, I agree. Repped
---
What a stud
Quote:
The power of Aleks, his small baby and pimp hardcore dogs has granted you useful insight, my friend.
Flyweight
Join Date: Nov 2006
Location: Chicago
Posts: 400
Brian Stann, he's a WEC power house who looks like he could hang with the UFC's top guys, and prolly knock um' out too.
Fedor and Aleksander Emelianenko
Rogerio Nogueira
Ricardo Arona
Denis Kang
Hayato Sakurai
Shinya Aoki
Takanori Gomi
Sokdoujou
Antonio Rogerio Nogueria
Ricardo Arona
Sokoudjou
Fedor Emelianenko
Takanori Gomi
Norifumi Yamamoto
Hayato Sakurai
Shinya Aoki
Matt Lindland
Paulo Filho
And of course they need to bring back Renato Sobral!
---
Quote:
Originally Posted by GMW
this isnt really a new fighter but we need henderson at middleweight.
Kang, filho, shamrock.
im sorry did you just say we need shamrock back?
thats the craziest thing i have ever heard
---
The most solid advice I can give to anyone who fights BJ Penn is...do not motivate the guy. Lets face it, BJ although talented, is naturally lazy. Your job is to NOT convince him to step on that treadmill.
International Stalker
Join Date: Nov 2006
Location: San Diego
Posts: 5,203
Quote:
Originally Posted by hollando
im sorry did you just say we need shamrock back?

thats the craziest thing i have ever heard
Well, from what most say he's still in good enough shape to be a threat to the division.
---
Credit to ThaMuffinMan
Currently Active Users Viewing This Thread: 1

(0 members and 1 guests)
Posting Rules

You may post new threads

You may post replies

You may not post attachments

You may not edit your posts

---

HTML code is Off

---