View Poll Results

: Arlovski vs Liddell

Chuck Liddell
12
44.44%
Andrei Arlovski
15
55.56%
Voters: 27. You may not vote on this poll
Megaweight

Join Date: Apr 2006
Location: Everett, MA
Posts: 5,961
Quote:
Originally Posted by Fighter
Andrei Arlovski By Ko In Round 1
i think that could happen too..AA is bigger and faster and more fluid as a striker..we saw CHuck struggle against Overeem until he caught him, and i think that could happen here..AA is 6'4 240 pounds, i just think thats a huge step up from the 205 pounds that Chucks been up against..Chuck would def have a shot at knocking him out, but i think AA's skills might overwhelm chuck early..the longer the fight goes the better chance id give chuck.Oh yea and I when i made this thread i was assuming that chuck would have to go up to HW because there is no way AA is losing 35 pounds
---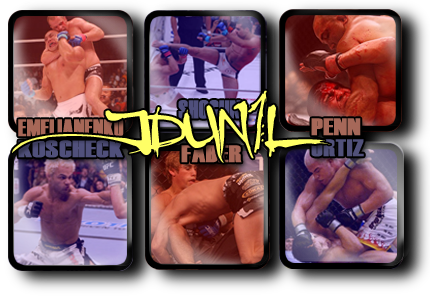 Mancrushes
1.Shogun
2.BJ
3.Fedor
4.Kos
5.GSP
Im in Porno's
Arlovski = Victory


my thoughts
I dont know if Chuck could take Andrei's leg kicks. I think Chuck would be to light on his feet to sustain them. He would have to go up to like 220 atleast.

As for combo's I dont think Chuck could take Andrei's combos.

And no punch is a fluke. Andrei threw that punch that knocked out Buentello.
Flyweight
Join Date: Jun 2006
Posts: 222
If anyone can get Chuck to the mat it would be AA and if he did he would win. Chuck has not faced anyone as powerful as AA. If AA tries to punch with him he takes a nap, if it goes to the mat AA submits Chuck.
---
"and then I look up and they still be wearin the same sh*&t they be wearin"
Charlie Murphy from the Prince episode of "Chappelle Show
Chuck = counterpuncher
- AA = glasschin and chases
_______________________
Chuck by KO
_______________________
This is SPARTA!
Join Date: Apr 2006
Location: Houston, Texas
Posts: 5,495
This is a better match-up than Liddell/CroCop, Mirko would just KO Liddell. I think AA would be too much for Liddell and I see him winning.
---

MMA Fanatic
Join Date: Jul 2006
Posts: 47
Andre, first round KO. (Left jab, with a straight right following.)
AA would murder Chuck, hes quicker and a harder hitter , has much better boxing and footwork too. AA is a beast
---
"I only want to be known as the best ever, is that too much to ask?" - BJ Penn
MMA Fanatic
Join Date: May 2006
Posts: 81
I say AA, but guys AA is a HEAVYWEIGHT. It would never happen.

I want AA back. He would probably waste everybody in the heavyweight division. The UFC has pretty weak HWs
Currently Active Users Viewing This Thread: 1

(0 members and 1 guests)
Posting Rules

You may post new threads

You may post replies

You may not post attachments

You may not edit your posts

---

HTML code is Off

---