Quote:
Originally Posted by IronMan
Watch his fight with Tra Telligman.
Plently people are huge and no where near where Tim Sylvia is. Semmyh Schilt is 7'0 while Sylvia is 6'8 and Semmy is no where near being at the level Sylvia is.
Also IronMan mentioned his fight with Gan McGee who is 6'10.
---
Last edited by Judoka; 10-08-2007 at

06:09 PM

.
I eat babies
Join Date: Jul 2006
Location: Troy, Ohio
Posts: 7,647
Semmy Schilt, Giant Silva, Gan McGee, Wes Sims, Dan Christonson, ect. are all bigger than Tim Sylvia. So how come they don't such an impressive record as he does and how come they haven't been two time UFC HW Champions?

If the only reason Tim Sylvia is successfull is because he is big than shouldn't these guy's as successful if not more than him?
MMA Fanatic
Join Date: Jan 2007
Posts: 26
Agreed
---
Quote:
Originally Posted by cabby
Not much of a size difference. I'm picking Vera because of his footwork. They can both strike but Tim is very stationary while Brandon has the ability to come in, throw a punch/combo or whatever it be, and get out lightning quick for a HW
I totally agree with you on this.
I think Vera is faster than Timmy and this will be the deciding factor.
Tim has size and reach but, but Vera's speed will prevail.
Regards,
Khanh
Welterweight
Join Date: Nov 2006
Location: Toronto, ON
Posts: 2,449
Quote:
Originally Posted by MMAmatt
see but my point is your describing someones skill because of their size which doesnt make sense so your basically admitting what im saying is true "Where Tim lacks in agility, he makes up for his huge size and power." and like i said the monson fight was clearly an issue of height, monson was just too stubby, while watching that fight i kept thinking, SHIT if monson had an inch more reach, or if monson was an inch taller i think he could have done "X" or done "X" etc etc.. it was clear he was frustrated because of his size
Huh, what are you talking about? You are the one not making sense. The only time I mentioned his size being his advantage is in his striking where he effectively uses his reach to frustrates his opponents before picking his power shots. How come you left out my quote on how Kendall Groove anyways?
As people have already mentioned, there are other fighters who are bigger than Tim and what have they accomplished? Man, I'm not even a fan of Tim Sylvia but it pisses me off when people disrespect him because he acts like an idiot.
You don't have to like the guy, but you cannot deny that he is a good fighter.
P.S. Ha, try to imagine Kongo vs Monson. I'm pretty sure Monson would submit Kongo even though he is also dwarfed by him.
---
Last edited by Rated; 10-08-2007 at

07:37 PM

.
Quote:
Originally Posted by Damone
Funny, since Tim looked his best against Telligman at UFC 54.
that was what? 2 years ago... and the only interesting perfrmance he had after that was at ufc 65.
---
Rooting for..
HW
- Brandon Vera
LHW
- Lyoto Machida
MW
- Martin Kampmann
WW
- John Fitch
LW
- Clay Guida
attention whore
Join Date: Oct 2006
Location: Branson, Missouri
Posts: 14,445
Quote:
that was what? 2 years ago... and the only interesting perfrmance he had after that was at ufc 65.
Actually, Sylvia had a nice performance at UFC 59.
But, you are missing my point. Dude said that steroids made Sylvia look good. I simply pointed out his fight against Telligman. You know, a post-steroid Tim Sylvia fight.
---
LIE or DIE
Join Date: Nov 2006
Location: Winnipeg
Posts: 1,931
I don't know, Sylvia sure had an interesting performance against Couture! Interesting in a 'what has happened to this world' kinda way.

Veras footwork vs Tims size. I like the match up boys. Both guys are skilled, we've seen more of what Sylvia can do and am interested to see what Vera has in store. This fight should remain on the feet and we shall be seeing a ton of kicks which makes me happy.
---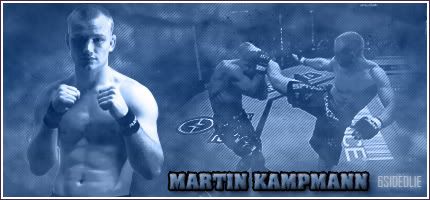 TEAM LORD:
1. Antonio Rodrigo Nogueira
2. Nate Marquardt
3. Goran Reljic
4. Amir Saddolah
RANKING: TBA
TOTAL POINTS: +TBA
Currently Active Users Viewing This Thread: 1

(0 members and 1 guests)
Posting Rules

You may post new threads

You may post replies

You may not post attachments

You may not edit your posts

---

HTML code is Off

---