LHW Champ
Join Date: Dec 2006
Location: North Carolina
Posts: 1,377
Quote:
Originally Posted by hollando
because vera and tim already signed on for a regular match...and tim lossing the title does not automatically give him the right for a one fight chance to have it again....not to mention i think tim needs to win the fans over again before the ufc is willing for him to hold the belt
Well being that he was the last champion before Couture, I think he desreves it more than any other guy out there. He has not recieved his rematch for the belt yet either. What is the difference with the Franklin / Silva rematch...Its kinda the same deal. Matt Hughes also is on the same path. Think about it the UFC usually gives past champions a chance to redeem themselves, which I have no problem with.. Also I belive had Liddell had beaten Jardine he would have also been on that same path.
---
"Believe In The Power Of One"
Evan Tanner 1971 - 2008
Quote:
Originally Posted by Nobilis
You know- in any sport- I've never quite understood when people say this. Is it cause he is your fav?
No. But the UFC rankings and how they do their title match-ups kind of remind me of college football. Sometimes the guys who fight for the title came off of direct #1 contender matches. Other times its based on their record and who they have beaten. The UFC has done a good job of honouring what fighters have done before coming to the UFC.
Keep in mind, Pride Champions should be held in higher regard than, lets say a TKO Champion. Dana knows that up until this year, Pride was the #1 mma organization in the world in regard to talent. That has changed now but fighters like Noguiera, Cro Cop, Shogun etc, beat the best fighters in the world in their prime.
Big Nog has 4 losses: Josh Barnett, Fedor x2 and Dan Henderson in 1999. He has beaten: Heath Herring, Josh Barnett, Werdum, Cro Cop, Ricco Rodriguez, Dan Henderson, Bob Sapp, Mark Coleman, Gary Goodridge, Jeremy Horn and the list goes on.
Out of all his losses his only ones not avenged were against the #1 ranked fighter, Fedor.
Tell me, who in the UFC right now has beaten a better who's who list of fighters and who has done more to earn a title shot. (Sylvia might have earned a shot by default of being the last title holder.)
---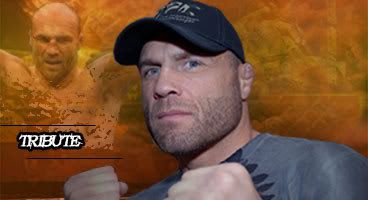 Vexxed' Minions
Lyoto Machida
Sean Sherk
Nate Quarry
Nate Diaz
Jonathon Goulet
so do you guys think big nog will tear through them all?
(i dont watch pride as much as UFC so i really dont know)
Quote:
Originally Posted by Sterling
How do you see Sylvia beating the much more agile Vera...This is a close match I know...but how do you give an advantage to either guy. This is really a match I look forward to seeing.
Three things really:
1. Experience- Sylvia has had more fights and more fights with more to lose than Vera. I also think he has with really good game plans. I know to some they are boring but really how is what Tim does any different than what Randy does to some guys.
2. Size- I know Vera is close to Randy Couture's size but I think Tim learned from that match and Vera won't be able to do quite what Couture did-again the experience factor. Also, I don't think Vera is going to have the strength Randy had in his match with Tim. Now Tim is taller, so no Eiler head kicks and if Vera can mauy thai clinch him I would be very impressed.
3. Rebirth- its the best word I could think to describe Tim Syliva. I hope and pray we see a rejuvenated Sylvia hungry for his shot at the title belt. His back surgery went great and he looked great for a guy his size in a recent vid. dancing around a ballroom.
Edit-file this one under rebirth:
"… the game plans we put together (against Andrei Arlovski and Jeff Monson) were to go out there and win, at all costs, but do it safely [under former boxing coach Matt Pena]. Some of my last few fights haven't been that exciting so I just hired a new boxing coach (Teddy Mueller). I'm doing a few different things and I think the old Tim's back, the guy that went out there and knocked people out the first and second round. So I'm going to go out there and give it my best and try and knock Brandon out. Being the fighter that I am, I'm not the type of guy that likes to go to a decision. I'm not the kind of guy that likes to do ground and pound or submissions, I want to knock the guy out standing up."
-
Old Tim is Back
Of course this is all mty opinion and I could be wrong.
---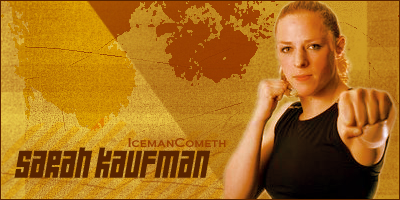 I think Nog should have to fight Kongo as well before getting a title shot. He only had one UFC and then gets a title shot? He looked terrible in his UFC fight too.
imho it should be:

kongo vs nog winner
vs winner
CC vs AA winner
vs = champ
vera vs tim winner
vs winner
gonzaga vs werdum winner
---
If a law is unjust, a man is not only right to disobey it, he is obligated to do so. ~ Thomas Jefferson
Sig by D.P.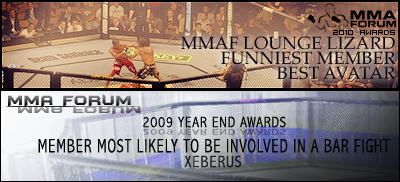 Bantamweight
Join Date: Oct 2006
Posts: 610
No one knows if old Tim is back. We haven't seen him yet. You can take his word on it. I won't. It's even to me.
Quote:
Originally Posted by hollando
dont you mean 2 of the 5?
I believe he classifies both page and Anderson as PRIDE fighters.
IMO Anderson doesn't belong ta any special org (exept the UFC), he's fought everywhere!
---
Official Leader of the Demian Maia Subway Station!

Dustin Hazelett - I'm McLovin' it

"The second he hits me, I will crush him!" - WAND (WAR)
Flyweight
Join Date: Oct 2006
Location: Kitchener, Ontario, Canada
Posts: 378
I think Sylvia vs Vera winner fighting Nog in Feb is great idea! Then you also on the same card have Andre Arlovski vs Kongo winner to face champ next. Then I want to see Gonzaga vs Herring and Cro Cop vs Wurdum.

The 3 Belts he means are

HW - Big Nog
LHW - Rampage
MW - Hendo/Silva (Silva was more recognized in Cage Rage than Pride, but at least he fought 5 fights there...so thats a decent amount...3 and 2 I believe? But Chonnan did the craziest thing in history for one of those losses so I dont look at that as a bad loss whatsover...not many people would have gotten outta of that.

Hendo is the only person in the UFC that stands a chance against Anderson Silva. (minus Fihlo - but tech. hes WEC). So I want to see Franklin fight Marquardt after he looses to Silva Saturday!

I do believe that Big Nog will run through and likely school most of the UFC guys.

Herring is no pushover - regardless of what people saw in the Jake Obrien fight (he just had knee surgery) and I havent seen the Brad Imes but at least he won. Then the Nog fight...he was the closest person ever to stopping Big Nog - I WAS SCREAMING AT THE REF - DONT STOP IT HES STILL THERE because he was...Big Nog has a chin of solid granite. Herring said in an interview after he was pretty much scared of Nogs ground game (and rightfully so) so he wanted to get it back up - but Nog has recovery and took the rest of the fight (like the beginging of the fight).

Watch some of Nogs fights in Pride
He was HW champ for awhile until Fedor came - their first fight was freaking EPIC in my opinion! and it shows Nogs chin if you want to see it!
---
"I take pride in accomplishing the impossible"

Favourite Fighters *No Order Given*

George St. Pierre
Wanderlei Silva
Anderson Silva
Royce Gracie
Fedor Emelianenko
Mirko Filipovic
Antonio Rodrigo Nogueira
Quinton Rampage Jackson
---
Last edited by NaChOmAmA; 10-17-2007 at

04:23 PM

.
This is SPARTA!
Join Date: Apr 2006
Location: Houston, Texas
Posts: 5,495
Added some links to the first post.

Apparently, the Big Nog vs Kongo fight might not happen and they have penciled in Big Nog as a #1 contender(use the term loosely) with Vera vs Sylvia being the other contender for the vacant title. The fight will happen sometime in Febuaury, during Superbowl weekend.
---

Currently Active Users Viewing This Thread: 1

(0 members and 1 guests)
Posting Rules

You may post new threads

You may post replies

You may not post attachments

You may not edit your posts

---

HTML code is Off

---