It could be a possibility, they did it with Sylvia and Arlovski. If Franklin did happen to win who would there be for him to face?
Franklin vs. Silva 3 would be a good choice, although I'm picking Silva to win this fight anyways so I don't think that will happen.
This Sylvia vs. Vera fight will answer alot of questions. Whos the number one contender? Can Sylvia go back to his old ways? Is Vera a serious contender or is he all hype?
I'm picking Sylvia to win.
Oh yeah, welcome back Jdun.
Quote:
Originally Posted by Nick_V03

I'm picking Sylvia to win.

thats what is so great about this fight... i have NO ! idea ho to pick
---

Kovalev - Golovkin
Lol, nice AV.
---
What a stud
Quote:
The power of Aleks, his small baby and pimp hardcore dogs has granted you useful insight, my friend.
Quote:
Originally Posted by norway1
thats what is so great about this fight... i have NO ! idea ho to pick
You're right, I think Sylvia will take it but I wouldn't be surprised if Vera got the win. It looks pretty close.
Although last time I said that I picked Guillard to beat Stevenson but said i could see Stevenson winning too, then Stevenson submitted him in 27 seconds.
I am gonna play devil advocate's, look at my sig., Ace has a very underrated ground game, punching power, and was working with Dorian Gray (yes the Dorian Gray from TUF 6) on mauy thai and the mauy clinch so he might have a way to beat it-bear in mind on a recent episode of TUF Dorian said he had done mauy thai for ten years I don't know his record but ten years he has to know something. The ground game is underrated, a lot people think of Rich and think of slugfests but he does of submission victories and a decent ground game/defense. His biggest problem is his punching, its not as crisp, or straight as Silva's but his loopy punches have power. This could all add up to problems for Silva.

More later...like Sylvia/Vera.
---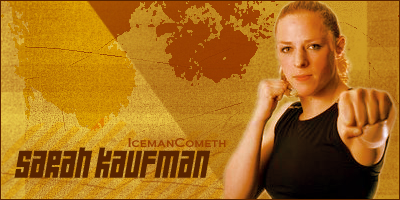 Well, I've seen Sylvia's past couple fights and if he fights with the same momentum we should be in for a snooze fest or a quick finish from Vera.


Rich Franklin: 22-2-0

Wins
11 (T)KO's
9 Submissions
2 Decisions

Losses
2 (T)KO's
---
Last edited by <M>MA; 10-18-2007 at

05:26 PM

.
Sylvia vs. Silva?
I still think Sylvia would be exposed and Silva would take it in a walk.
---
MY FIVE

1. George St. Pierre
2. Anderson Silva
3. Fedor Emelianenko
4. Don Frye
5. Kenny Florian
attention whore
Join Date: Oct 2006
Location: Branson, Missouri
Posts: 14,445
I'm definitely more interested in Sylvia vs Vera, because it's much more important. Sure, Franklin vs Silva is a title fight, but Vera vs Sylvia will pretty much determine the next number 1 contender for the HW title.

Franklin didn't even put up a fight in their first one, it was just Silva killing him slowly. Seriously, if Franklin wins, then we'll get Franklin vs Silva 3 because the MW division sucks massive nonks. In my opinion, Silva's already beaten the one guy who had a great chance in beating him, and that was Nate Marquardt.

Big Tim vs Vera interests me a lot, because this will be a huge test for Vera. Is he ready? Will he drop down? Will Tim be awesome? Yeah, this could rule.
---
Currently Active Users Viewing This Thread: 1

(0 members and 1 guests)
Posting Rules

You may post new threads

You may post replies

You may not post attachments

You may not edit your posts

---

HTML code is Off

---