Tim Sylvia all the way!!!! GO BIG TIM
---
FAVORITE FIGHTERS

HW: Sylvia, Couture, Crocop, Big Nog, Hunt and Arlovski

LHW: Ortiz, Shogun, Rampage and Alexander

MW: Silva, Franklin, Lindland, and Okami

WW: Hughes, Penn, G.S.P

LW: Sherk, Huerta, Fisher and Florian.
rooting for vera but will not be suprised if tim pulls it off
Amatuer
Join Date: Aug 2007
Location: Scotland
Posts: 134
Nevermind, got it.
---
Last edited by Gudster; 10-20-2007 at

11:17 AM

.
attention whore
Join Date: Oct 2006
Location: Branson, Missouri
Posts: 14,445
Amatuer
Join Date: Aug 2007
Location: Scotland
Posts: 134
Ment the full show.

Cheers though.
War Brandon... time to shine..
---
BRANDON
"THE TRUTH"
VERA -
THIS IS MMA = ANY THING CAN HAPPEN
Quote:
Originally Posted by Curly
I don't think I could take Big Tim as the champ again, lets hope Vera puts an end to him Saturday night.
Tim will fight angry so Vera may have his hands full-- WAR VERA!!
agree 100% i was at ufc 68 in Columbus and i cant tell how great it was watching tim loose to randy god i cant take tim something about him
I'm rooting for Vera. I dont like Tim. I hope this is the last time we see him.
Brandon is going to take it. Tims reach doesnt mean anything. Brandon is a better striker than Tim. Which says alot cause Tim is no slouch contrary to popular belief. I know alot of people think Vera has gotten a head of him self. But Rob Kaman sees something in you, and Lloyd Irvin see something in you, you are doing something right.
Me and Brandon getting ready for Tim @ Lloyd Irvins school in MD...
[IMG]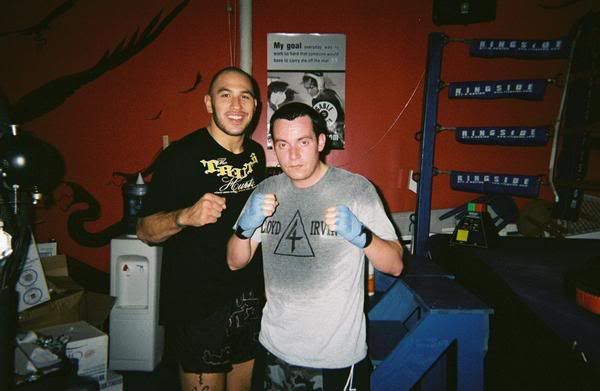 [/IMG]
---

Ground and Pound Drilling..
http://video.google.com/videoplay?do...72196009&hl=en
Quote:
Originally Posted by KnockinUout
Thats too funny. If there is a 6in difference I still think that gives sylvia the advantage. Add in his rage and aggresion and you have one person you dont wanna stand in the way of.
i havent seen aggression in ANY of tim's last 3-4 fights. he relied on just being a big slow oaf.
---
Favorite Fighters:

Fedor Emelianenko
Mauricio 'Shogun' Rua
Anotonio Rodrigo Nogueira
Dan Henderson
Andrei Arlovski
Wanderlei Silva
Luke Cummo
Currently Active Users Viewing This Thread: 1

(0 members and 1 guests)
Posting Rules

You may post new threads

You may post replies

You may not post attachments

You may not edit your posts

---

HTML code is Off

---