He Walked Away?
---
I was on the UFC 63 website watching the in-depth look into the Hughes vs. Penn fight and in an interview Dana White said something that I thought was really strange. In fact I have been hearing it on the television previews as well. Dana White said that after BJ Penn won the welterweight title he walked away from it. From what I understand, he was stripped of that title because of contract disputes. He fought like hell to stop the UFC from awarding the title to somebody else by taking them to court. Is this walking away crap some sort of lame advertising thing cooked up by Dana White or am I missing part of the story? Your thoughts!
Link to the preview
UFC 63: Hughes vs Penn - Official Site
No he was stripped of his title. You can't fight for any organization while being a title holder. He fought for K1 i believe. they stripped him of the title and he took them to court and lost.
Okay, so it was like I thought! Dana is lying through his teeth! Who in there right minds would walk away from a title?
Bj went to fight in Japan, no?
Megaweight

Join Date: Apr 2006
Location: Everett, MA
Posts: 5,961
dana said that because it makes a better story line...he think hes vince mcmahon
---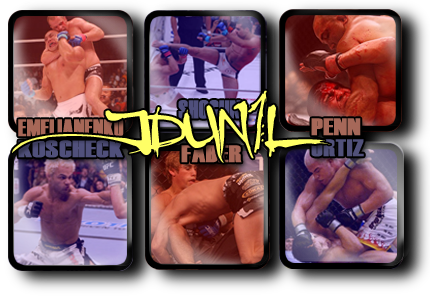 Mancrushes
1.Shogun
2.BJ
3.Fedor
4.Kos
5.GSP
Im in Porno's
MMA Fanatic
Join Date: Sep 2006
Posts: 4
B.J. is very talented and is an asset to UFC. we need people like him to fight in america because right now japan has the best HW's. B.J. has so much talent so hopefully he brings it to matt, because matt will no doubt try his best to beat him in convincingly (is that a word?) War Penn
i'm sure a one or two UFC fights every so often r predetermined, simly because of the betting line ie. tito/forrest and Paul Buenetello/Arloski
I eat babies
Join Date: Jul 2006
Location: Troy, Ohio
Posts: 7,647
Yea those commercials are starting to piss me off. The way the guy says it he makes it sound like he was a rebel or something. The UFC doesn't allow any of their champions to fight in another organization while they are holding the belt. BJ loves to fight and he went and faught about 4 months later in K-1 and beat the hell outta Duane Bang. So they took his belt away for that reason and gave it back to their posterboy Matt Hughes and gave him easy opponents since that point. He should not have gotten the belt back. He went to the judges in his next fight against Renato Verissimo. Who??? In the mean time BJ has been fighting some of the best in the world and even though he lost a couple close decisions, it doesn't make him any worse considering the circumstances. I wish they would stop lying and trying to pick their champions. Matt was a 5-time defending champ when BJ beat the hell outta him, they gave him the belt back because he was a 5-time defending champ, but in all reality he should have faught someone other than Renato Verissimo, even though he went the distance, he still is not a great fighter and Matt couldn't finish him. That's just my opinion though about Matt not about BJ those are facts haha. I mean, even if it did go down the way I think it should have, Matt might have still been champ, but I just didn't understand why they just kinda handed it back to him after losing it in such an unimpressive way.
Currently Active Users Viewing This Thread: 1

(0 members and 1 guests)
Posting Rules

You may post new threads

You may post replies

You may not post attachments

You may not edit your posts

---

HTML code is Off

---