Knockouts........
---
What is the best knockout of all time? And who would you like to see get knocked out?
i dont know which one is the best. but i would really like to tito get ko'd...i dont think i need to say why
---
people say either the world will end at 2012 or the aliens will finnally come back to us.....


i hope not cuz im writing a sci fi novel
MMA Fanatic
Join Date: Jul 2006
Posts: 85
I have three at the top of the list right now. I like Chuck's TKO on Tito, Rich Franklin's knockout on Nate Quarry, and Melvin Guillard's knockout on Rick Davis.

As far as people I'd like to see get knocked out. It would have to be someone really cocky like Brandon Vera. After he won his first fight he called out Chuck Liddell and said after he won heavyweight belt he was going to drop down and take on Chuck.
My personnal favorite is still the Petey Williams-Mark "The Hammer" Coleman knockout. It came out of know where and that kick landed perfectly. The look on Coleman face was priceless.
Pogo
Of course watching Tank Abbotts knockout of John Matua with Matua totally spazed out with his legs and arms frozen in the air was classic.
Pogo
The Pat Smith-Scott Morris knockout was intense. Thats one of my favorites.
Another classic KO was Brad Kholer(sp)-Steve Judson with that big one punch knockout. Judson was out before his body hit the floor.
He was out for a long time too. They even had to bring in oxygen for him. Poor bastard
Pogo
Megaweight

Join Date: Apr 2006
Location: Everett, MA
Posts: 5,961
either kohler on judson , or franklin on quarry..those 2 are in a league of there own ..no other KO comes close
---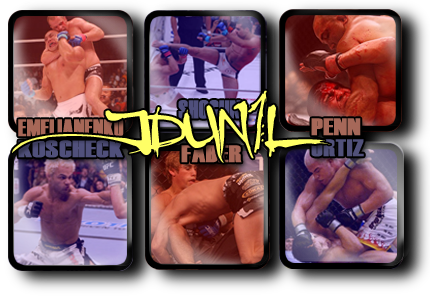 Mancrushes
1.Shogun
2.BJ
3.Fedor
4.Kos
5.GSP
Im in Porno's
Hughes slam on Newton rocked. I could watch it over and over. But I'd have to say the one that brought me the biggest smile was Ortiz getting Ko'd by Chuck. And I would give up all my posessions to see Ken KO Ortiz in October, but Im going have to wait until December to see Tito laid out. And since Ortiz vs Chuck is in December and so is the Hughes/Penn vs. GSP fight, will they be on the same card? That would be the PPV of the year hands down if so.
Currently Active Users Viewing This Thread: 1

(0 members and 1 guests)
Posting Rules

You may post new threads

You may post replies

You may not post attachments

You may not edit your posts

---

HTML code is Off

---