View Poll Results

: Are you stand up, or grappler?

knock out
11
55.00%
submission
9
45.00%
Voters: 20. You may not vote on this poll
Fight finishers
---
What's your favorite way of seeing a fight end
---
Let's Bang!
Megaweight

Join Date: Apr 2006
Location: Everett, MA
Posts: 5,961
i like a good submission, but nothing beats a good KO
---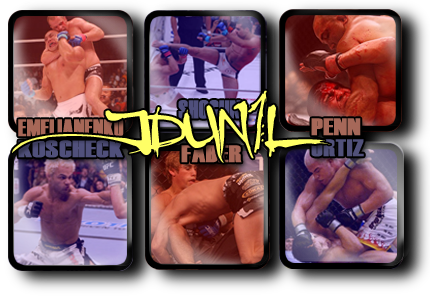 Mancrushes
1.Shogun
2.BJ
3.Fedor
4.Kos
5.GSP
Im in Porno's
I like seeing knock outs, the only things that beat knockouts are spectacular submissions like flying armbars.
head butt
---
people say either the world will end at 2012 or the aliens will finnally come back to us.....


i hope not cuz im writing a sci fi novel
I think you kinda got to earn a submission a bit more. i like Ko but i really like a smooth submission.
I have seen a really impressive flying arm bar attempt that ened up as a flying triangle choke. Wow.
being a BJJ Black Belt, I finish the majority of my fghts via submission....HOWEVER, ther is no better feeling when you catch someone w/ an open right, or a short elbow and it puts them to sleep. I love it
Since I train mainly BJJ I like to see a quality sub coz I know what it takes to get there but a good tear up culminating with a brutal KO rocks my boat as well
Amatuer
Join Date: Sep 2006
Posts: 133
I like a good submission after a little beatdown. Hitting em up until they leave out an "easy way out." Basically how BJ finished Hughes last time. Beat him up on his back, made Matt go for his foot and grabbed his neck.
Megaweight

Join Date: Apr 2006
Location: Everett, MA
Posts: 5,961
so u guys are tellin me when ur watchin fight, u dont say" oh man i hope this dude get ktfo" u say" wow i hope this guy submits his ass"....i dont belive that
---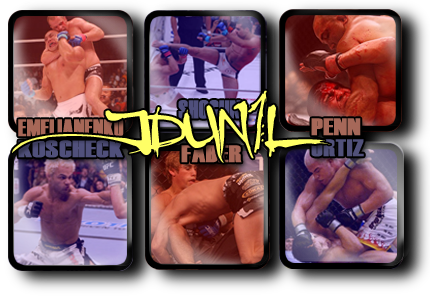 Mancrushes
1.Shogun
2.BJ
3.Fedor
4.Kos
5.GSP
Im in Porno's
Currently Active Users Viewing This Thread: 1

(0 members and 1 guests)
Posting Rules

You may post new threads

You may post replies

You may not post attachments

You may not edit your posts

---

HTML code is Off

---