View Poll Results

: Who is the UFC Fighter of the Year for 2007

Anderson Silva
72
48.00%
Tyson Griffin
3
2.00%
Jon Fitch
2
1.33%
Randy Couture
24
16.00%
Forrest Griffin
9
6.00%
Rampage Jackson
39
26.00%
Other
1
0.67%
Voters: 150. You may not vote on this poll
I'm the Decider
Join Date: May 2007
Posts: 3,239
Quote:
Originally Posted by pauly_j
Surely someone who came from nowhere and is now a top ranking contender in the UFC had the best year? I'd vote for Housten Alexander if he were an option.
the very last option was other, lol at your avatar btw.
---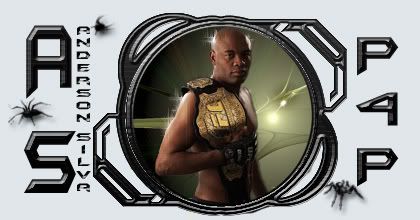 Pound4Pound, The Best There Is
Andy Wang.

He doesn't even need to listen to anybody, he's as deaf as Matt Hamill (no offense) when it comes to listening.

Why is he fighter of the year? Because he comes in with a set gameplan. He knows what he is going to do before anyone opens their mouth. I have a lot of respect for someone who can get their ass beat, and cry about it.
This is SPARTA!
Join Date: Apr 2006
Location: Houston, Texas
Posts: 5,495
Roger Huerta, future LW champion.
---

Quote:
Originally Posted by wukkadb
I think what gives Anderson the edge is his first fight compared to Rampage's first fight though. Rampage seemed a little rusty, and even commented about wanting a couple warm up fights. Anderson Silva just came in and destroyed Leben, then destroyed Franklin.
True but this is fighter of the year so I based my vote solely on the fighters' performances in 2007. Anderson's first fight against Franklin & his fight against Leben were both in 2006.
As for Rampage's fight against Eastman... he said he wanted warmup fights so the fans would get to know him, not because he was rusty. He wanted to have more credibility to the general public (even though he wouldn't say it like that because the word "credibility" has too many syllables in it). Plus, by fighting Eastman he got to avenge his first loss. I still think beating the UFC & Pride LHW Champs is a bigger accomplishment then beating Marquardt, Lutter, and beating Franklin for the second time.
---
Thanks to NikosCC for the sick sig!
Quote:
Originally Posted by Kameleon
Roger Huerta, future LW champion.
Hes definetly had an awesome year. Hes fought 4 times, going on 5 with his fight in December. If he wins against Clay I would definetly put him as a contender for fighter of the year.
---
Banned
Join Date: Feb 2007
Posts: 3,238
I went with Jackson, Anderson isnt far behind and it could be anyones race. If either of them had fought once more this year, then they would definately receive the Fighter of The Year.

2 great champions and I'm glad we have em.
I like this idea, they should definetly give an award of some sort for fighter of the year.

I must say it is very close between Rampage and Anderson, however I had to go wit Rampage. I believe Rampage has had the tougher fights (its close though!)

Huerta has to have been the most active UFC fighter this year, but due to who he has beat I cant give him the fighter of the year. If he beats Guida then I shall be real impressed.
i have to go with Tyson Griffin the man had how many FOTN's this year? not on of his fights were boring...yeah he may not have won them all but he didn't once give up...so i would say him
but Anderson,Rampage did good also,Couture is up there but really he only be big tim and the ape.

But Fitch has been a beast all year..im still going with Little Grffin
anderson silva by far, he completly destroyed all his opponents.
Currently Active Users Viewing This Thread: 1

(0 members and 1 guests)
Posting Rules

You may post new threads

You may post replies

You may not post attachments

You may not edit your posts

---

HTML code is Off

---