Herman and Grove
---
They both seem to be very talented and have some good opponents against them. I would like to see a rematch sometime next year and the winner get a big push in contendership. They both are great on the ground and standing, I would not be surprised if each eventually get title shots within the next year or 2. Ed Herman is probably my favorite middleweight fighter and definitley my favorite from any season TUF. I really like his attitutde and determination. His loss to Kendall really hurt him, and Im sure he's been training with Randy and other Team Questers and will be ready for October.
Yeah, they'll probably have them on the undercard fight next to Liddell vs. Sobral 3.
There rematch should be on live television because that is the only way it would be interesting!
Pfff... I didn't like Ed at all on the show, nor did I know that anyone else did. All he did was complain about Tito not picking him and talk about how good he was. I'm not saying he was bad, but he was by far the most boring fighter and failed to dominate anyone like he said he would.
You didn't mention Kaleb, who was quite clearly the best in that weight division IMO, he just suffered from an injury. Watch for him to hit the UFC.
Well, they're fighting on the OCT 10 UFN so we'll see how much they've come.

I like Ed alot, i've rolled with him a few times and hes alot better then people give him credit for.

And hey, you'd be mad to if you were on shamcock's team, the guy did nothing. Even Tito said he messed up by not picking him, if he had Tito's training he would be the best out of all of them. But he didn't and Kendall, Ed, and Kaleb are by far very good Middleweight fighters.
---
What is it that is going to be on your mind when you're on your death bed? Will it be the tedious years of 9 to 5, or the memory of some great acheivement. Maybe a moment you stood in glory to the applause of millions.
-Evan Tanner
I dont know why not many people are big on Ed Herman. Hes very plain to look at, but I think he has great submission defense and heart. He should do some training with Hughes and the Militech camp and he will be a contender one day.
Megaweight

Join Date: Apr 2006
Location: Everett, MA
Posts: 5,961
i dont see either of those guys being anymore than average middleweights, they will never compete for a title.i think Kaleb has the best shot at making noise in that division, kaleb is a huge middlweight and i think he would beat ed in a match..thats one fight i wouldnt mind seeing
---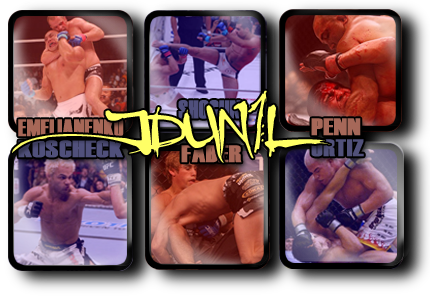 Mancrushes
1.Shogun
2.BJ
3.Fedor
4.Kos
5.GSP
Im in Porno's
Currently Active Users Viewing This Thread: 1

(0 members and 1 guests)
Posting Rules

You may post new threads

You may post replies

You may not post attachments

You may not edit your posts

---

HTML code is Off

---