Megaweight

Join Date: Apr 2006
Location: Everett, MA
Posts: 5,961
I Dont Think Bj Will Beat Hughes, So I Think He Is Gonna Go Down To 155 And A Year From Now He Will Be Lw Champ..whoever Said Fisher Was Overrated, I Agree With That, He Lost To Stout And Kenflo Tooled Stout
---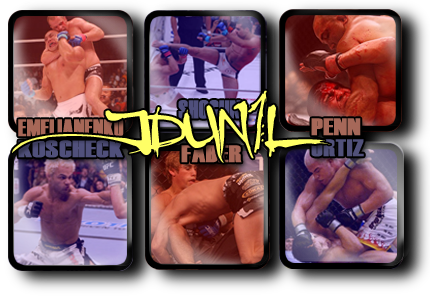 Mancrushes
1.Shogun
2.BJ
3.Fedor
4.Kos
5.GSP
Im in Porno's
Bantamweight
Join Date: Aug 2006
Location: Sacramento
Posts: 540
Quote:
Originally Posted by Spit206Fire
LW division is the best. I hope sean keeps the belt forever but theres alot of strong young guys comming up like Joe Stevenson and Melvin Guillard so it should be fun to watch.

btw Pulver will be in the mix to.

I think spencer fischers kinda overrated, he almost lost to "Handsome" and then he did loose to stout.

So...just my opinion
He took his fight with Stout on short notice he was out of shape and it was still a close fight. As for him almost loosing to "Handsom" big deal Hughes almost lost to trigg by RNC but he didnt. Fisher finished "Handsome" amazingly. Im not trying to change you opinion I understand where your coming from I just wanna put my point across.
---
Forum Bets: 0-0(Still undefeated)
Death Matches: 12-4-0
Currently Active Users Viewing This Thread: 1

(0 members and 1 guests)
Posting Rules

You may post new threads

You may post replies

You may not post attachments

You may not edit your posts

---

HTML code is Off

---