Georges St. Pierres – He's easily become my favorite fighter in the past couple of years, I love watching this guy fight because it's never boring at any point in the fight.

Vitor Belfort – I had a lot of the old tapes, and I remember seeing this crazy 19 year old kid hand Tank Abbott his ass, and he's been one of my favorites since.

Chuck Liddell – For obvious reasons.

Tito Ortiz – The guy to watch. Not the most well rounded fighter, but the guy you ALWAYS want to see.

Royce Gracie – Just like a lot of people growing up watching UFC, Gracie was one of my favorites because he was the scrawny guy that no one expected to win and he completely schooled everyone at the time.
Quote:
Originally Posted by MMA freak
Frank Mir
Tim Sylvia (his earlier days)
Cabbage Correira
Randy Couture
Tito Ortiz
His earlier days as in when he was on roids?
Flyweight
Join Date: Jun 2006
Posts: 222
Fedor
Matt Hughes
Vitor Belfort
Chuck Liddel
Don Frye
---
"and then I look up and they still be wearin the same sh*&t they be wearin"
Charlie Murphy from the Prince episode of "Chappelle Show
Quote:
Originally Posted by asskicker
His earlier days as in when he was on roids?
Yeah, when he beat up Cabbage, Ricco Rodriguez, and Gan McGee. Nowadays I guess hes not the same since he can't juice
.
Megaweight

Join Date: Apr 2006
Location: Everett, MA
Posts: 5,961
Fedor- the name speaks for itself..greatest fighter of all-time, and never has a boring fight.
Tito Ortiz- Great for the sport, and seems like a genuinely nice guy. I was very impressed with him on TUF.
Chuck Liddell- Cool dude, never has a boring fight..
Rich Franklin- Awesome guy, great fighter, exciting fights. The KO of Nate Quarry alone put him in my top 5
Josh Koscheck- I think i like the guy cuz everyone hates on him. I love his athleticism, and I also like the fact that hes learning the game so fast. It gives me confidence that I can do the same
---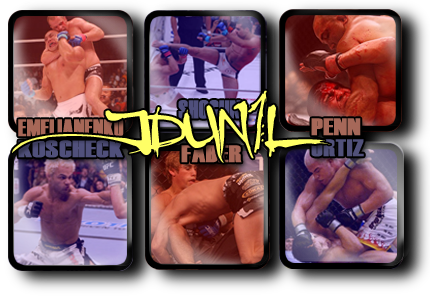 Mancrushes
1.Shogun
2.BJ
3.Fedor
4.Kos
5.GSP
Im in Porno's
The Cat Smasher
Join Date: Jun 2006
Location: Toronto, Ontario, Canada
Posts: 583
It's in my signature but I'll post it anyway.

1. Ken Shamrock
2. Vitor Belfort
3. Chuck Liddell
4. Frank Shamrock
5. Matt Hamill
---

My Favourite Fighters
Ken Shamrock
Vitor Belfort
Fedor Emelianenko
Georges St. Pierre
Wanderlei Silva
Rich Franklin
Mark Kerr
Chuck Liddell
Robbie Lawler
B.J. Penn
Mirko "Cro Cop" Filipovic
Mauricio "Shogun" Rua
Chris Leben
Nick Diaz
MMA Fanatic
Join Date: Sep 2006
Posts: 10
Yeah
---
1. Quinton Jackson
MMA Fanatic
Join Date: Aug 2006
Location: New Zealand
Posts: 9
1. Matt Hughes
2. Chuck Liddell
3. Karo Parisyan
4. GSP
5. Tim Sylvia
Currently Active Users Viewing This Thread: 1

(0 members and 1 guests)
Posting Rules

You may post new threads

You may post replies

You may not post attachments

You may not edit your posts

---

HTML code is Off

---