View Poll Results

: Whou would win if they faught?

Diego Sanchez
16
69.57%
Roger Huerta
7
30.43%
Voters: 23. You may not vote on this poll
Banned
Join Date: Apr 2007
Location: Montclair, NJ
Posts: 11,605
Diego is a real underrated fighter who just can't deal with very good wrestlers. Huerta isn't a very good wrestler so he should handle him. In fact I think Diego would have success against everyone in the LW divison but Edgar, Sherk, and Penn and he has a shot to beat those guys.
Sanchez would probably brutalize Huerta. He's bigger and probably stronger, even at 155. He was overpowered at 170 only by the likes of Fitch, a guy who is barely able to make the class.
I see this being a fun fight, with lots of nice scrambling, but Sanchez will probably overpower Roger eventually, take a mount and pound for a stoppage.
---
Last edited by vandalian; 12-10-2007 at

11:08 PM

.
Megaweight

Join Date: Apr 2006
Location: Everett, MA
Posts: 5,961
I think Diego has the abilty to beat anyone at 155 including BJ and Sherk. He is a cardio monster that never stops. If Sherk has Diego on his back for 5 rounds, there is a good chance Diego will come close if not submit Sherk. And a fight with Penn would be just as interesting. With both fighters on opposite ends of the spectrum when it comes to cardio, anything could happen.
---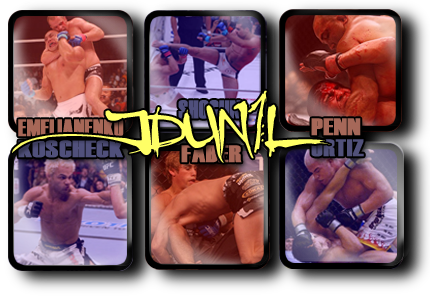 Mancrushes
1.Shogun
2.BJ
3.Fedor
4.Kos
5.GSP
Im in Porno's
I thought Huerta looked like shit for 99% of that fight so I cant see any reason to think he would pose a threat to Diego.

I know lots of people are saying now you have to give him his props but to me his performance brought up more questions than answers, clay is a good fighter and he beat him Ill give him that but I dont see clay as being one of the top dogs in the class. I think any of the top five guys is going to eat Huerta alive if he doesn't get back in the gym and put some real work in, just my opinion.

Would they make this fight? I don't think they want to make it now because whoever take a loss is in serious trouble career wise especially if its Diego. Maybe down the road for a title shot this could happen.
---
sakurabushidokan.homestead.com
Currently Active Users Viewing This Thread: 1

(0 members and 1 guests)
Posting Rules

You may post new threads

You may post replies

You may not post attachments

You may not edit your posts

---

HTML code is Off

---