MMA Fanatic
Join Date: Sep 2006
Posts: 2
Bj needs to get off the high horse and CONDITION!! Hes a better fighter PERIOD! To anyone who trains. Its sad to me that the better man lost because he's lazy...maybe he's not the better man. All i know is GsP is gonna mop the ****IN floor with Matt's bloody mushy limp body!
A conditioned BJ would probobly beat Matt and GSP fairly easily IMO. But thats just the way it is. hes not conditioned and he may never be. Im sure he doesnt work that hard but some guys no matter how hard they work just cant get to the point where they have great cardio
its not like he wasnt training at the time. he had a fight coming up. he should have been good to go.
---
people say either the world will end at 2012 or the aliens will finnally come back to us.....


i hope not cuz im writing a sci fi novel
Megaweight

Join Date: Apr 2006
Location: Everett, MA
Posts: 5,961
wow u have no idea how impressed I am with BJ..what i fight, if he isnt the most naturally gifted fighter in the world , i dunno who is..wow those first two round he looked unbeatable..i hope next time he takes Tito up on his offer and goes up to big bear and gets his cardio improved..but bj is still only 27 this kid is far from done, he will wear that welterweight belt again i guarantee it.. I CANT SAY ENOUGH HOW MUCH THAT GUY IMPRESSED ME TONITE...MY JAW IS STILL ON THE FLOOR FROM THAT BEAUTIFUL DISPLAY OF BJJ
---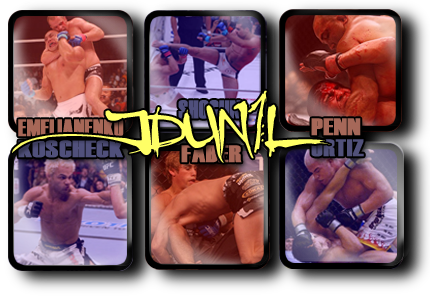 Mancrushes
1.Shogun
2.BJ
3.Fedor
4.Kos
5.GSP
Im in Porno's
future for Penn? drop down and try to take the LW title ahaaaaaaaaa
Quote:
Originally Posted by CTFlyingKnee
future for Penn? drop down and try to take the LW title ahaaaaaaaaa
If he can take on Hughes like that, Sherk or Florian (Positive it will be Sherk) will have their hands full!
---
You forget that this isn't just some brutal sport where everyones out to kill each other. Its much more like a game of physical chess.-looney liam
Bj impressed the hell out of us today....well for 2 rounds he dominated. He gassed so bad, but he will be back and we will win a belt again some day soon. He needs to train with Tito's gang - This is a must do once you loose a coupla fights - hes gotta change a few things up.

He is IMO a much better technical fighter than all others at 170 but he is not fullfilling his potential.

He will be back....remember this is all BJ does.
i hope that matt huges beats gst and sanchez so we can see huges penn 3
Quote:
Originally Posted by lilstuch114
i hope that matt huges beats gst and sanchez so we can see huges penn 3
That might be nice, but let's be serious....Hughes is not getting past St. Pierre.
It would be nice to see an "in shape" Penn though.
What a disgrace!!!!
---
Matt was right to call BJ out of shape. I love it when these guys CLAIM how bad they want it and what they are made of, then get into the Octagon and completely gas. All of you who are so "impressed" with BJ need to rethink your opinion. Isn't the same as saying Tank Abbott would have been unstoppable if he just trained a little bit. BJ should become a banker or something less physical so he doesn't get hurt.
---
THEBOZ
"DULCE ET DECORUM EST PRO PATRIA MORI"
Currently Active Users Viewing This Thread: 1

(0 members and 1 guests)
Posting Rules

You may post new threads

You may post replies

You may not post attachments

You may not edit your posts

---

HTML code is Off

---