Think UFC Will "Unleash" Louaseau
---
I'd would hate to see it happen, but for some fighters it seems loosing 2 or 3 fights in a row gets you dumped by the UFC. I realize it's not that way for every fighter, and that is the basis for this thread. Do you think Louaseau will have the privilege of fighting in the octagon yet again??
---
Let's Bang!
Yes I think he'll be back. He lost to Rich which no one can hold against him. He better be careful tho if he learns another fight he'll either be gone or turn into an Elvis Sinosec type.
I was worried about this also after last nite. I do think he will be back tho, atleast 1 more time. UFC does seem to be pretty tough on people after loosing a few in a row.......
---
Favorite Fighters
Matt Hughes
Rich Franklin
Frank Shamrock
Randy Couture
Chuck Lidell
Pat Militech
Royce Gracie
i dont think they will just get rid of him like that.....but he is in desperate need of a win
If they keep riggs they have tom keep the crow. I say they fight loser walks. riggs can fight up i'm sure.
David Loiseau .vs. Justin Levens or Chris Leben since all are coming off hard losses and looking to work their way back to the top.
I think Loiseau deserves to carry on fighting in the UFC. If there were anymore rounds to go in the fight with Swick then it could have been a different story. Loiseau seemed to be finding his feet half way through the 3rd round.
---
Violence solves everything!
Megaweight

Join Date: Apr 2006
Location: Everett, MA
Posts: 5,961
The Crow Put On 2 Disgusting Performances...he Looks Like He Is Afraid To Get Hit And, His Fights Have Been Boring...put Him On During A Fight Night..if He Wins He Stays, If Not Hes Gone
---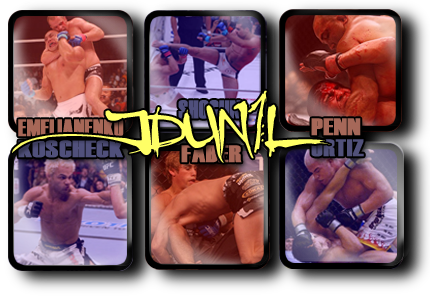 Mancrushes
1.Shogun
2.BJ
3.Fedor
4.Kos
5.GSP
Im in Porno's
Flyweight
Join Date: Sep 2006
Posts: 323
I dont know what he was thinking in that fight. It wasn't till the end he let his hands/elbows go...
These guys need to stop thinking so much in the ring and just fight.
Let your hands go and actually beat the shit out of the guy
I don't think they'll let him go just yet. You'll probably see him in against Leben or Terrel soon.
Had he had more confidence going into the fight he probably would of KO'd Swick. DL only woke up in the 3rd and he dominated Swick. In the first 2 rds it was like he was sleep walking. The Crow will be back.
Currently Active Users Viewing This Thread: 1

(0 members and 1 guests)
Posting Rules

You may post new threads

You may post replies

You may not post attachments

You may not edit your posts

---

HTML code is Off

---