View Poll Results

: Should Melvin Guillard get the first Lightweight Title Shot?

Yes
14
56.00%
No
10
40.00%
Who's Melvin Guillard?
1
4.00%
Voters: 25. You may not vote on this poll
no he would take florian out imo
---
Favorite Fighters:

Roger Huerta
Karo Parisyan
Wanderlei Silva
Frank Edgar
Gray Maynard
The great thing about watching Guillard is that you know he can end the fight at any point, and you know he's always trying to.
---
Sig by Toxic

Barnett - Toquinho -Werdum - "Nurmie"
Z. Gurgel - Morango - Rocha - Tiequan
Quote:
Originally Posted by IronMan
Granted, Sherk would probably pound Guillard through the canvas right now, but in 6 months that could change alot.
That's QFT.
what's qft?
---
Favorite Fighters:

Roger Huerta
Karo Parisyan
Wanderlei Silva
Frank Edgar
Gray Maynard
Quote:
Originally Posted by libertywrestler
what's qft?
Quoted for truth.
i think that he has definatly proved himslef
---
fear is only an obstacle, you can either beat it or succumb to it
You seem to be forgetting about Spencer Fisher, who is well on his way to a Lightweight title shot. In actuality, I think Fisher and Guillard are the two top contenders in the division right now..so they should fight for it.

I'd like to think Fisher would beat him by submission, but he'd have a good chance beating him standing up too.
UFC should SERIOUSLY look into Charles "Krazy Horse" Bennet... for the TUF5 serious on Lightweights... i can guarentee he would win and he would be by far the most entertaining person to see out and in the ring
i hit no when i actually meant to hit yes... i would like to see him fight KenFlo before sean sherk tho
Megaweight

Join Date: Apr 2006
Location: Everett, MA
Posts: 5,961
Quote:
Originally Posted by Organik
UFC should SERIOUSLY look into Charles "Krazy Horse" Bennet... for the TUF5 serious on Lightweights... i can guarentee he would win and he would be by far the most entertaining person to see out and in the ring
yea crazy horse is sick...great striker...got ktfo by gomi but gomi is the man..hes too good to TUF but id love to see him fight in the ufc..personally id love to see pulver vs guilliard but i dont think dana wants to see Pulver lose, so Im sure he is gonna give Jens a can to KO b4 he gives him another contender..but melvin vs jens would be awesome, i think melvin is a lil too big for jens and would catch him and KO him
---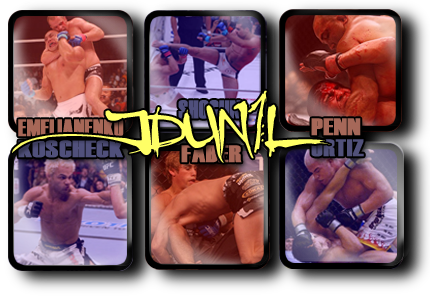 Mancrushes
1.Shogun
2.BJ
3.Fedor
4.Kos
5.GSP
Im in Porno's
Currently Active Users Viewing This Thread: 1

(0 members and 1 guests)
Posting Rules

You may post new threads

You may post replies

You may not post attachments

You may not edit your posts

---

HTML code is Off

---