View Poll Results

: Number 1 Contender

Rashad Evans
24
57.14%
Forrest Griffin
18
42.86%
Voters: 42. You may not vote on this poll
This is SPARTA!
Join Date: Apr 2006
Location: Houston, Texas
Posts: 5,495
Rashad Evans vs. Forrest Griffin
---
With Rashad's win last saturday, I think his next opponent would or should be Forrest. Both are tremendous fighters and both should eventually be giving title shots for the LHW division. Who do you think would win?
---

I agree, both fighters won the light heavyweight division on the Ultimate Fighter show and it would only make sense to have this match. I think Rashad would win, Forrest only likes to stand up and exchange and engage, Rashad would take him down and use some ground and pound on him.
This would be a sweet matchup.
I can see both guys wanting to throw bombs and whoever has the better game that day wins. I think rashad has heavier hands but forrest has the better chin. Its tough to call but ill go with RAshad
I would love to see this fight.
I have to go with Rashad for the win.
i've earned my stripes

Join Date: Jul 2006
Posts: 5,989
Tough one to call with Rashad's improvements. I'll still take Forrest in this one though.
---
i'm a monster
i'm a maven
i know this world is changin'
never gave in
never gave up
i'm the only thing i'm afraid of
I dont know my hearts with Forrest here but I dont think he matches up well with Rashad. I think Rashads takedowns are better than Forrests takedown defense. I think rashad would win.
I think Forrest would beat him in 3 rounds by TKO, but if Rashad takes him down for most of the fight then maybe he can pull out the win.
Rashad is better on the ground and he has proven to be a decent striker! I think he could take Forrest!
---
You forget that this isn't just some brutal sport where everyones out to kill each other. Its much more like a game of physical chess.-looney liam
Quote:
Originally Posted by Bonnar426
Rashad is better on the ground and he has proven to be a decent striker! I think he could take Forrest!
exactly, well put
---
Favorite Fighters:

Roger Huerta
Karo Parisyan
Wanderlei Silva
Frank Edgar
Gray Maynard
Megaweight

Join Date: Apr 2006
Location: Everett, MA
Posts: 5,961
cmon guys forrest has been in there with the best takedowns and ground and pound in the ufc(Tito)...and almost won..Rashad isnt on Tito's level in any aspect of mma...We saw how good Forrests takedown defense was, and his striking is vastly improved...its a good fight but i see forrest winning in a war...
---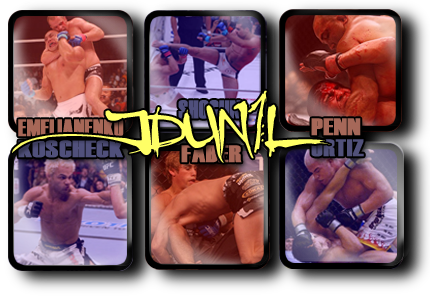 Mancrushes
1.Shogun
2.BJ
3.Fedor
4.Kos
5.GSP
Im in Porno's
Currently Active Users Viewing This Thread: 1

(0 members and 1 guests)
Posting Rules

You may post new threads

You may post replies

You may not post attachments

You may not edit your posts

---

HTML code is Off

---