Could Joe Lauzon be a Force in the Lightweight Division?
---
Everybody knows that Joe Lauzon was the underdog in his fight with Jens Pulver. Surprisingly enough, Lauzon ended up knocking Jens out in :48 of the first round! Does this man have a chance of being Lightweight Champion one day or was his victory just luck? Your Thoughts!
---
You forget that this isn't just some brutal sport where everyones out to kill each other. Its much more like a game of physical chess.-looney liam
Flyweight
Join Date: Jun 2006
Posts: 302
Right now I would have to say no because of the fact that Jens got caught because he slipped. I'm not trying to take anything away from Lauzon but that fight only put his name out there, and I'll have to see him fight more to see if he is the real deal or if that slip just gained him 15 seconds of fame.
I think in his next match it will be against someone on a roll and he will lose and have to earn his way back up again, I definitely don't think hes a future lightweight champion.
Megaweight

Join Date: Apr 2006
Location: Everett, MA
Posts: 5,961
nah i dont think so..i couldnt really tell much about him..the fight didnt last long enough
---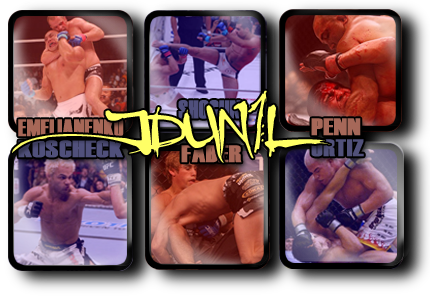 Mancrushes
1.Shogun
2.BJ
3.Fedor
4.Kos
5.GSP
Im in Porno's
the fight was too short to judge him. I think now that Jens has lost and shaken off his UFC ring rust, he will be a bigger force
Bantamweight
Join Date: Aug 2006
Location: Sacramento
Posts: 540
He looked real nice entering the fight. He absolutly dominated Pulver (for 48 seconds of course) but it was'nt enough time for him to truley showcase his skills. Only time will tell if he's a true contender. As of now he looks pritty amazing.
---
Forum Bets: 0-0(Still undefeated)
Death Matches: 12-4-0
I personally think he will be a force, and here's why.

Now even if Jens isnt near the fighter he was. Lets say your first UFC fight was against a former champ, and a guy that has respectable wins over top named guys.

Your first UFC fight is against JENS PULVER. They literally fed him to the wolves for his first fight.

As Rogan said on the program Jens has got good takedown defense, Lauzon went right through it. Went back on their feet, he EXPLODED on Pulver like it was nothing, good combinations with the strikes and knees and just handed it to him.

I mean to overcome all those odds, even if Jens isnt the same fighter, this sport is also mental too, I mean your typical no name out of no where would have lost this fight in a heartbeat, he would have been mentally drained and just so many things would be going through his head, but not this guy.

I personally think Lauzon has a chance to become a top contender. He needs a few more fights under his belt but if he performs like he did against Pulver there's no doubt in my mind this guy can overcome anything.
Amatuer
Join Date: Sep 2006
Posts: 133
He was willing to take his first fight in the UFC with the only lightweight Champ. He was also willing to let the fight go anywhere, ground or standing. I think he is definately going to be a contender. We need to see him get tested. See his endurance, his chin, see how he reacts if he gets cut... There are a lot of factors there. Hopefully we'll see something good out of him since he is another Masshole
Users Awaiting Email Confirmation
Join Date: Jul 2006
Location: Ohio
Posts: 808
Quote:
Originally Posted by Bonnar426
Does this man have a chance of being Lightweight Champion one day or was his victory just luck? Your Thoughts!
Of course he has a chance. Nobody knows how far he will go
he really impressed me.. especially when i told buddy i was sitting beside at the bar he was gonna end it quick and he disagreed with me

haha
Currently Active Users Viewing This Thread: 1

(0 members and 1 guests)
Posting Rules

You may post new threads

You may post replies

You may not post attachments

You may not edit your posts

---

HTML code is Off

---