Banned
Join Date: Jul 2007
Location: Backseat of the PlazzVan
Posts: 6,472
Tim Sylvia Interview, He Talks Nog, Brock, Mir, Jens, Faber
---
Quote:
This Saturday at the Mandalay Bay Arena in Las Vegas, Nevada Tim Sylvia will be looking for gold for a third time when he takes on Former Pride Champion Antonio Rodrigo Nogueira for the UFC Interim Heavyweight Championship of the world. In this MMANews.com interview Tim talks about Saturday nights fight, gives us low down with whatís going down in the Militich camp, tells us why Brock Lesnar wonít get out of the first round, and much more.

ďThe UFC is bringing in Brock to lose. All his fans have got to do is watch the UFC once and they will be hooked.Ē


Jonathan Brown: Congratulations on your win over Brandon Vera.

Tim Sylvia: Thank you

JB: How did training camp go?

TS: It went great!

JB: Nogueira has a good stand up game, and a great ground game. Do you plan on keeping this fight standing?

TS: Yeah thatís no secret. Everyone knows Iím a stand up fighter.

JB: This fight is for the interim heavyweight title. Do you anticipate that it will be eventually recognized as the real heavyweight title since Randy Couture has made it pretty clear heís not coming back to the UFC?

TS: Yeah I would imagine so. Eventually itís going to happen.

JB: Would getting a victory over Nogueira be particularly satisfying since for the longest time the Pride Heavyweights were considered better then the UFC Heavyweights?

TS: Yeah no doubt. This fight is going to solidify my legacy. He is one of the best in the world. If everything goes right I will beat him.

JB: What did you think of his first fight in the UFC against Heath Herring?

TS: I thought he showed a lot of ring rust. Iím not expecting that Nogueira to show up. I have seen him fight many times, and thatís the worst I have ever seen him fight.

JB: Randy Couture is picking you by stoppage to win this fight. Nogueira has never been knocked out, and has faced some of the best fighters in the world. Are you going to be the first to stop him?

TS: Iím going to sure as hell try.

JB: Do see the fight going the way Randy says?

TS: I do, absolutely.

JB: Who do you like in the Frank Mir vs. Brock Lesnar fight?

TS: Frank Mir by first round submission.

JB: Would you like to face the winner of that fight?

TS: I want to fight Frank Mir again. He broke my arm. We have some unfinished business: he knows it, and I know it, so I need Frank to win just as much as I do, so we can face each other down the road.

JB: Do you think the advertising the UFC is doing of Brocks highly publicized WWE career will bring more fans to this fight?

TS: Thatís what the marketing is all about. I think weíre going to get a lot of WWE fans to watch this fight. The UFC is bringing in Brock to lose. All his fans have got to do is watch the UFC once and they will be hooked.

JB: You have trained with Brock in the past. What were your impressions?

TS: Brockís a stud. A great wrestler and a strong guy, but very inexperienced.

JB: Jeremy Horn is on the undercard against Nathan Marquardt. Did you get to train with him?

TS: He took this fight on short notice, so he set up training camp close to home. If he would have had more time to train he would of came down here.

JB: Do you think he has a good chance of beating Nate?

TS: Oh yes, Jeremy has a good chance every time he fights.

JB: Gimmie your thoughts on Jenís recent victory over Cub Swanson?

TS: I loved it! Jens is my boy.

JB: Do you think he is ready for Urijah Faber?

TS: I think he is the only one out there that is ready for him. I think heís the only one out there that can give Urijah a test right now. Jens has the strength, the power, and the wrestling ability to deal with Faber, and he can defiantly out strike him.

JB: Has Jens started training for that fight yet?

TS: Yeah he helped me get ready for my fight. Every morning we ran, biked, and swam together.

JB: Drew Mcfedries got stopped in his last fight with Patrick Cote. Did his mom dying in December affect his preparation, and performance in this fight?

TS: I know it affected his preparation. He may say it didnít, but I mean anytime you lose a loved one itís going to affect you. His training camp didnít go that well. He was in and out of the gym. He wasnít able to train the way he could of, or should of. He just didnít want to be there, and I donít blame him. He had a lot of balls getting in there.

JB: Is it true that no one at MFS will spar with him?

TS: (Laughs) No thatís not true. You know Drewís a stud. He hits hard as hell. All the heavyweights will spar with him. Um butÖ well I guess it is kind of true. I mean the Heavyweights will, but from there on down everyone else pretty much stays away from him.

JB: How about Robbie Lawler when he was there?

TS: Robbie doesnít spar much. He just grapples.

JB: I heard the UFC is no longer going to allow their fighters to be sponsored by Affliction. How do you like them apples?

TS: I donít like it, because Iím sponsored by Affliction.

JB: Who are some other fighters that you like to watch fight?

TS: Chuck Liddell, Anderson Silva, Roger Huerta, Wanderlei Silva, and pretty much everyone on my team. Anderson, I love watching that guy unless heís fighting one of my friends.

JB: Who do you like in his next fight with Dan Henderson?

TS: Damn it! Thatís another one of my friends. Whatís up with that? (Laughs) Well if thereís anyone that can beat him I think itís Danny because of his style.

JB: Because you think he will be able to handle him in the clinch?

TS: Yeah thatís what Danny likes. Danny is a hell of a wrestler.

JB: Does your ďbad guyĒ image bother you?

TS: Not at all. I am going to continue to be myself. Iím not going to change for anybody.

JB: Anything you like to say in closing?

TS: Just want to say thanks to my sponsors, and all the fans that support me.
http://www.mmanews.com/
I like that he wants to fight Mir again.
Megaweight

Join Date: Apr 2006
Location: Everett, MA
Posts: 5,961
Good stuff man thanks
---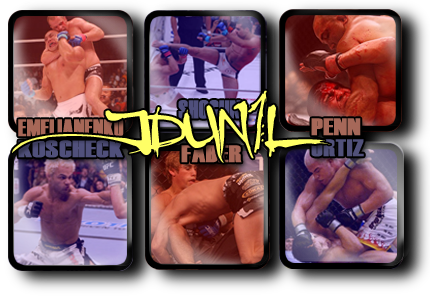 Mancrushes
1.Shogun
2.BJ
3.Fedor
4.Kos
5.GSP
Im in Porno's
Banned
Join Date: Jul 2007
Location: Backseat of the PlazzVan
Posts: 6,472
Quote:
Good stuff man thanks
Not a problem. Tim has gotten the short end of the stick when it comes to the fans, but I respect him as a person and fighter. But I still want Nog to win.
Currently Active Users Viewing This Thread: 1

(0 members and 1 guests)
Posting Rules

You may post new threads

You may post replies

You may not post attachments

You may not edit your posts

---

HTML code is Off

---