My Fighting Update (for those that care)
---
I know this is a UFC thread but seeing how alot of people have been asking me to keep my training updated i decided to make a post.
As alot of people know i was going to be fighting in a BJJ comp, this november but i have had the oppertunity to fight in a College MMA comp instead, so i droped out of the BJJ and finally got a break from my MMA training. I will be fighting november 4th in an ameture MMA comp in Yakima Washington. I will be representing Central Washington in the 155 weight division and will hopefully have another win to my 5-1 ameture record. I have no plans on going pro right now due to the fact i have no funds to go. Anyways my arms look pretty small but i stand 5'11 right now and weigh a solid 165, i've droped weight once just because i haven't droped weight in a while and thought it would be a good idea and it was an easy 10 hours to drop that 10 pounds. Im going up a guy thats 6'1 and is basically a twig, so hopefully my submission wrestling/Kempo Jiu Jitsu/ Kickboxing/ and takedown training will all pay off. The guy im fighting is from Western Washington University and happeneds to be my rival school, ive already heard hes callin me things like small fry and baby face (im 20 but look kinda young lol) and ive taken it pretty personally seeing how its the guys first fight and hes only trained 4 months compaired to my 3 years.
So here's my latest pic from my Bedroom at college.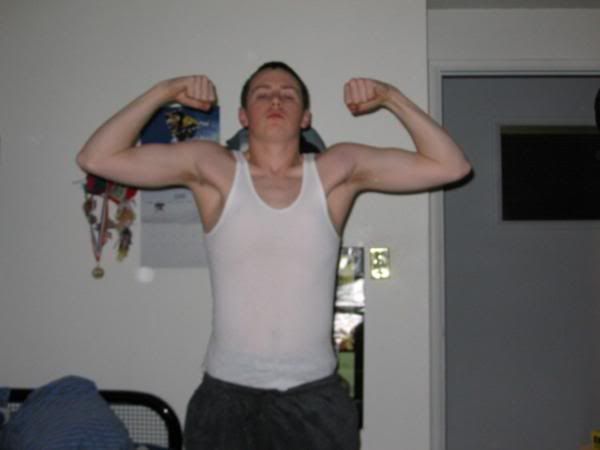 Say what ya like about me, i try to say what i mean, flame me or not i don't care the only thing that hurts me is failure and i only have ran into that once. So i'll keep ya'll updated more if ya want and maybe can provides pics or a video. Bless ya'll and for those that support me, thanks alot theres alot of doubters in my arm strength but i can still slam anyone in the 155 class and submit there ass with guiltine and TKO them with my fists and elbows. Thanks alot,
Mike "Big Guns" Ball
(Nickname came from when i worked in a lumber yard, people always made fun of me because i could lift alot but i never had the arm size, so they called me big guns)
---
What is it that is going to be on your mind when you're on your death bed? Will it be the tedious years of 9 to 5, or the memory of some great acheivement. Maybe a moment you stood in glory to the applause of millions.
-Evan Tanner
good luck
---
Favorite Fighters:

Roger Huerta
Karo Parisyan
Wanderlei Silva
Frank Edgar
Gray Maynard
I would kick your ass.
---
Last edited by Chuck Norris; 10-12-2006 at

11:33 PM

.
Ouch time scared.
---
What is it that is going to be on your mind when you're on your death bed? Will it be the tedious years of 9 to 5, or the memory of some great acheivement. Maybe a moment you stood in glory to the applause of millions.
-Evan Tanner
"Minotauro" Nogueira
Join Date: Apr 2006
Location: Canada
Posts: 496
Good luck dude. Kick his ass.
Users Awaiting Email Confirmation
Join Date: Jul 2006
Location: Ohio
Posts: 808
Wishing ya the best of luck! Hope you are able to get a vid, that would be awesome!
Megaweight

Join Date: Apr 2006
Location: Everett, MA
Posts: 5,961
5'11 155 thats a pretty decent size for a light weight, hopefully as u get older you dont fill out too much, cuz at that weight you could probably do pretty good..Good luck kid, my advice for you is to think out there and dont just react cuz you will probably do sumthing ur gonna regret...Just be patient, and do what you do best. Even if you lose, so what ur 20, ur only gonna get better, fighting experience is the key
---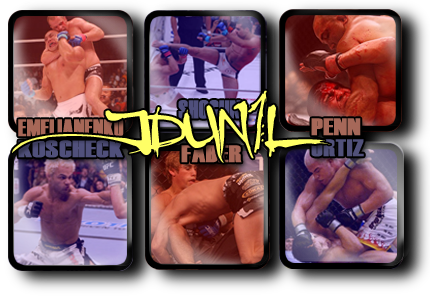 Mancrushes
1.Shogun
2.BJ
3.Fedor
4.Kos
5.GSP
Im in Porno's
Good Luck man, just curious but how did you win and loose your fights? Im only 17 and i hope soon to start competing.
Ya, i don't have any problem with tryin to help people, i actually am training with a buddy of mine who used to be a state champ in WA for freestyle wrestling, im helping him with submissions, kempo jiu jitsu and alot of kickboxing and i personally think he's a beast of a fighter if he decides to go pro (unlike me, i wish i could but cant, right now atleast).

i got my first fight right after i turned 18, i started MMA by training Submission wrestling and kempo jiu jitsu. Basically after that i just tried other fighting styles, i got into Kickboxing, slam and takedowns, and even a tad bit of BJJ. I think the best thing you can do to start in MMA is to really watch alot of fighters, i go to X Fighting Championships every time its in town (ill be there Oct 21st) and i really enjoy it even though its ametures youd think itd be bad but its better imo, you see more creative ideas because alot of these guys have nothing to loose and they do it for fun. Once you really i think have a well rounded mind of everystyle of MMA i think its a must you have a base starting game. Mine was Submission wrestling, i think of myself as a very well rounded fighter but if all fails im better on the ground, its my base skill. So basically just start where your comfertable. I know alot of people also say they dont base themselves around any other fighters and i dont like that. I base myself on alot of fighers (my fighting style that is), i try to be alot like Sean Sherk, Matt Hughes, Tito Ortiz on the ground and stading up wise i try and be alot like Sean Sherk, low to the ground, quick combos with nice inside game and a very nice variety of skills(if u donno what i mean watch the Nick Diaz vs Sean Sherk fight in UFC 59). The best thing i do mainly with cardio is i got good friends with alot of the Army/Air Force guys out here at Central Washington so they let me train cardio and weight training with them, its hell but its great.

Anyways i'd love to help anyone who wants it i perfer to talk over aim, that way i can answer questions alot quicker, my names Spit206Fire dont be afraid to ask questions at all, i may be only 20 but i grew up around sports and fighting.

Next 20 mins ill be afk but shoot me msg and ill get back to ya quick, i wont be training again till sunday night.
---
What is it that is going to be on your mind when you're on your death bed? Will it be the tedious years of 9 to 5, or the memory of some great acheivement. Maybe a moment you stood in glory to the applause of millions.
-Evan Tanner
Currently Active Users Viewing This Thread: 1

(0 members and 1 guests)
Posting Rules

You may post new threads

You may post replies

You may not post attachments

You may not edit your posts

---

HTML code is Off

---