Quote:
If St. Pierre comes into this fight with his head in the game, no one will stop him. This may not be a complete destruction of Fitch, but if GSP has his head right, he will dominate.
your right ...it could be up to GSP's mental level from here on in that will decide if he can bring it to the octagon and try to and defend a title ??? No pressure eh!?
... this is a great test for both fighters that I really admire in MMA. GSP is so well rounded though ...I really wish both of them one hell of a fight on that night! Fitch is totally deserving of a contest he proved completely worthy of. .
...may the best man win ...that's all I hope for in this one.
---
_________________________
GSP
Quote:
Originally Posted by
championfighter
View Post
Way too much time on your hands to be doing a post that long. your weird
What insight.
Anyway, I have to give GSP the edge in most areas, but he knows as well as anyone there's always that x-factor in MMA. This should really be great.
I totally disapprove of BJ getting the winner, because of how deep this division is. There are guys earning their way towards title shots, the way Fitch and GSP each did. But they're getting passed over.
---
Last edited by vandalian; 07-16-2008 at

01:03 AM

.
Ya he won't beat GSP I agree. Maybe if he utilizes a good hard jab that keeps GSP away and works a leg kick/right hand he could grind out a decision, possibly set up a few takedowns but we'll see. I think GSP will be very prepared
---
What a stud
Quote:
The power of Aleks, his small baby and pimp hardcore dogs has granted you useful insight, my friend.
---
Last edited by wukkadb; 07-16-2008 at

03:48 AM

.
What does Fitch have for a reach advantage. Two inches or so?
Fitch via flying triangle is the only way I see Fitch winning.
This is how I see the fight going...


Round 1: feeling out process. GSP get the takedown towards the end of the round and tries to do some dmg from half-guard. (10-9 St-Pierre)

Round 2: Fitch goes in for the TD but GSP sprawls out of it and reverses to get into side-control. Fitch imnmediatly gets halfguard back, then quickly back to guard. GSP will be using mild GnP but mainly defending from surprise submission attempts thrown by Fitch. (10-9 Fitch)


Round 3: I think this round will be 1/2 semi-busy strikes and 1/2 with Fitch on his back eating a bit more dmg from GNP and having more trouble firing sub attempts. (10-9 St-Pierre)


Round 4: GSP rocks Fitch with a Kick and quickly jumps on him and gets the TKO stoppage for his first title defense.


GSP • TKO • 4th round


My guess, call it wishfull thinking if you will, but this is how I see the fight going when I think about it.

lol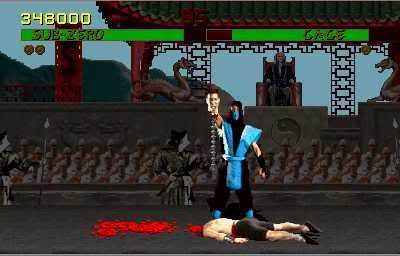 Subzero = St. Pierre .... sorry that is just how I see the fight ending
---
"Existence precedes essence"
- Jean Paul Sartre
My podcast/blog:
http://lifeashumans.blogspot.com/
Funniest thing you may ever find on the internet:
www.gentlemanbob.com
or look for gentlemanbob on facebook
NPFFL: Cain Velasquez, Demian Maia, Lyoto Machida, Joseph Benavidez
Flyweight
Join Date: Sep 2006
Posts: 323
1) GSP already beat BJ... Why is BJ vs GSP popping up all the time? Even though I think BJ is a great fighter/champ at lightweight I think GSP would beat him again.

2) I think GSP will beat Fitch easily if he doesn't get caught with a lucky punch. GSP has demolished every wrestler he has faced.
Banned
Join Date: Jul 2008
Posts: 135
GSP has been severly overrated, he's looked unstoppable? He fought a washed up Matt Hughes, and...well Matt Serra who doesn't need to be washed up for a mailbox to beat him. I think GSP will win but just because he might beat Fitch doesnt equate to him beating Penn or Silva.
Currently Active Users Viewing This Thread: 1

(0 members and 1 guests)
Posting Rules

You may post new threads

You may post replies

You may not post attachments

You may not edit your posts

---

HTML code is Off

---