Dana talks about Montreal, GSP/Penn and Rampage
---
Taken from TSN.ca
Quote:
"TORONTO - The UFC is looking to return to Canada later this year.

''I literally just left a meeting where we were talking about that,'' UFC president Dana White told The Canadian Press on Tuesday. ''We're looking to come back to Montreal.''

White said the mixed martial arts organization hopes to return in November or December.

The UFC made its Canadian debut April 19, drawing a loud and proud crowd of 21,390 at the Bell Centre to see Montreal's Georges St. Pierre reclaim his welterweight title from Matt Serra. The Canadian card was the UFC's biggest ever in terms of attendance, its fastest ever sellout, and produced a gate of some $5 million.

''The energy tonight was more powerful here than anywhere I've ever been. The fans were amazing,'' White said that night.

''Everybody delivered. It was a great night.''

Should St. Pierre dispose of top contender Jon Fitch in Minneapolis at UFC 87 on Saturday night, the stage could be set for a super-fight in Montreal later this year between the Canadian star and lightweight champion B.J. Penn. The Hawaiian fighter has long expressed a desire to return to the 170-pound ranks from 155 pounds to have another crack at St. Pierre, who won a split decision when the two welterweights met at UFC 58 in March 2006 in Las Vegas.

The UFC currently has shows booked through late October, including UFC 88 in Atlanta on Sept. 6, UFC 89 in Birmingham, England, on Oct. 18 and UFC 90 in Chicago on Oct. 25.

White made no mention of who might highlight the next Canadian card but acknowledged that Penn will be watching Saturday's title fight in Minneapolis closely.

''Obviously B.J. is pulling for GSP because he wants to fight him,'' he said.

The UFC had hoped that Penn would remain at 155 pounds to defend his title against the winner of Saturday's fight between lightweight contenders Kenny Florian and Roger Huerta. But White said he is unsure of Penn's plans.

''We know that B.J. wants to fight GSP again, especially if GSP wins. But no, we don't know.''

On the issue of troubled light-heavyweight Quinton (Rampage) Jackson, White said the former champion is physically fine.

Jackson was hospitalized for a mental health evaluation after he was arrested last month in Costa Mesa, Calif., after a five-kilometre chase that began as the result of two freeway collisions and another crash when he allegedly ran red lights in his pickup truck, according to police.

Jackson was booked for investigation of felony evading, reckless driving and hit and run, and released on US$25,000 bail.

''It wasn't psychiatric at all, it was physical,'' said White. ''He had a physical condition - exhaustion, dehydration that caused delirium.''

The alleged incident happened after Jackson lost his title July 5 to Forrest Griffin in Las Vegas.

White said Jackson, a California native, had remained in Las Vegas for a week after the fight and was fasting - living on energy drinks alone.

''Bad combination,'' said White.

''Physically and mentally he's OK. Now he's got some legal problems, obviously.''
-----------------
http://www.tsn.ca/mma/story/?id=2453...headlines_main
yaya wandy vs page is back on and GSP vs. Penn on as long as GSP does his job. Good news
---


"Are you seeing planes? Is your name Tattoo? Because I swear to God, you're living on Fantasy Island"
LIE or DIE
Join Date: Nov 2006
Location: Winnipeg
Posts: 1,931
The thought of GSP v Penn and Rampage v Wandy potentially being on the same is huge. That would be a huge November card, and would be followed up by the huge annual December card. What a second half of the year for the UFC, these cards are all amazing.
---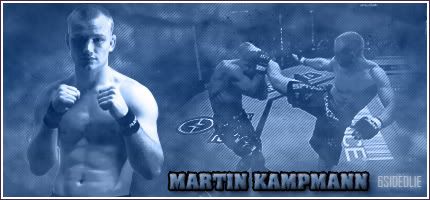 TEAM LORD:
1. Antonio Rodrigo Nogueira
2. Nate Marquardt
3. Goran Reljic
4. Amir Saddolah
RANKING: TBA
TOTAL POINTS: +TBA
MMA Fanatic
Join Date: Mar 2008
Posts: 51
That would be a really good fight GSP vs Bj Penn in Montreal I don't know who I would pick in that one.
dip!
Banned
Join Date: Apr 2007
Posts: 1,393
Quote:
I would go with gsp again. Penn needs to fight all the fricken lightweight comp first. Damn you penn for trying to bump up when you havent even finished your damn division.
Penn doesnt need to do shit.. fighters cant fight forever.. he wants to accomplish alot.. theres no point in him wasting his time destroying every single person at LW.
Quote:
Penn doesnt need to do shit.. fighters cant fight forever.. he wants to accomplish alot.. theres no point in him wasting his time destroying every single person at LW.
Nobody said every single person. I beleive they were referring to actually defending the title he holds though. Sure there's a time limit but that doesn't mean rush ahead and simply lose.
I give Penn a lot of credit and all, but Gsp will win this 1 again, and if Rampage does fight Wand, its going to be an amazing card for sure.
---
Fav. Fighters

1. Georges St. Pierre
2. Quinton Jackson
3. Anderson Silva

"If Your Not Cheatin, Your Not Tryin Hard Enough" Tito Ortiz
Forum Bets
54-15
Penn is my favorite fighter but should he bail on the winner of Florian and Huerta, I'd be pissed.
Guys, I highly doubt Rampage vs Silva can happen in the GSP vs Penn event in Montreal. Rampage would have a hard time entering Canada with his record. That being said, another event in Montreal sounds great!!!
Currently Active Users Viewing This Thread: 1

(0 members and 1 guests)
Posting Rules

You may post new threads

You may post replies

You may not post attachments

You may not edit your posts

---

HTML code is Off

---