View Poll Results

: What would you rather see??

GSP vs. BJ
31
41.33%
GSP vs. Anderson Silva
32
42.67%
BJ vs Anderson Silva
12
16.00%
Voters: 75. You may not vote on this poll
Quote:
I posted befor he put the poll up, I thought the whole thread was....
Honest mistake Mr. Clarke
Haha! Good one
I miss Mr Clarke.
And I would pick BJ vs Silva. I really think that fight would be just crazy.
BJ Doesn't ever seem to get hurt with strikes and Anderson has great Sub defense.
---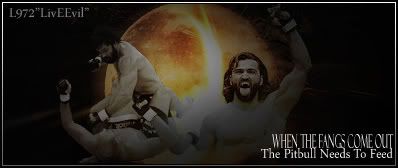 MMA Fanatic
Join Date: Dec 2007
Posts: 41
I'll probably get flamed for this, but I'd really like to see Silva Hendo pt 2.
I think that Hendo could have a better fight the second time around. Also,
someone mentioned Silva vs Melvin Manhoeff in a previous thread. I think that could be a really exciting fight too. Melvin can REALLY bang, and he's not afraid to get hit.

Still think that Silva would take both fights, but I'd love to see them.

Another fight I'd like to see is Fedor and Silva in a tag team style match against Rob Emerson. (we need to make it fair, right?)
Emo by double decapitation in the second round!!

(I'll definately get flamed for that one, but it was a joke)
Although I am anti-weight changing espicially title holders, I'd love to see GSP vs Anderson. I think BJ vs either of those guys will just show that he isn't that great P4P, while GSP vs Anderson would basically be the fairest fight for a P4P king (Fedor vs anyone less than 205 just wouldn't be fair)
---
*_*_*_*_*_UFC FANTASY TEAM*_*_*_*_*
Wanderlei Silva
Evan Tanner
Kenny Florian
Alan Belcher
Alessio Sakara
Light Heavyweight

Join Date: May 2007
Location: Melbourne, Australia
Posts: 3,474
I'd probably go with GSP vs Anderson. I'm not sure how BJ would handle going to 185, and I'd hate to see him get there and just be a little tubby with no gas tank. I realise that BJ has fought at 205, but I'd want both fighters to be in peak condition prior to fight so there aren't any 'would x have won if...' discussions.
I picked BJ/GSP II. I've wanted to see this rematch ever since their first fight ended. If they would have never had their first fight, making me want to see the rematch so bad, I would have went with GSP/Silva.
Middleweight
Join Date: Jul 2008
Location: Iowa
Posts: 2,615
Quote:
None. Stay within your damn weight-classes. GSP has more work to do, BJ has more work to do...
totally agree getting sick of this bullshit. I want this fight i want that stay in your own f***ing weight class.
Nothing agaist the thread though everyone has the right to their opinion. IF GSP does fight Penn i hope he fubars him.
In time I would really like to see GSP vs Silva. But first I would like to see GSP defend his title against the winner of Alves/Diego and maybe Parisyan if he can get past Yoshida
---

Gonzaga vs dos Santos - UFC on VS
Vera vs Jones - UFC on VS
Bibs vs Hansen - Dream 13
GSP vs Hardy - UFC 112
Gomi vs Florian - UFN 21
Nelson vs Struve - UFN 21
Curitiba Food and Liquor

Join Date: Dec 2006
Location: NY
Posts: 16,176
GSP v Silva war fo sho
---

Sig Credit to Toxic

LEGEN...wait for it...DARY

Join Date: Jul 2006
Location: Georgia
Posts: 5,066
GSP vs BJ. Hands down. BJ is a good fighter at 170...I am interested to see how his cardio looks at that weight now that he is focused on that part of his game.

GSP vs. Silva is an easy win for Silva. I think GSP would have way too many problems getting inside on Silva for the takedown and if he did would probably get subbed quickly as Silva's length and knowledge of BJJ would be too much.

BJ vs. Silva would be a good fight, but probably another fight that Silva wins. I think BJ has a better shot at beating him then GSP though.
---
Currently Active Users Viewing This Thread: 1

(0 members and 1 guests)
Posting Rules

You may post new threads

You may post replies

You may not post attachments

You may not edit your posts

---

HTML code is Off

---