View Poll Results

: Who Wins?

Pete Sell
11
37.93%
Josh Burkman
18
62.07%
Voters: 29. You may not vote on this poll
Burkman was clutching a single leg desperately all night against the fence. That fight was pure suckiness. Sure, Swick sucked too but Burkman was even suckier! There was no redeeming qualities in his performance that night.
---
Credit to Toxic for the sick sig!
Yeah I don't see any of these guys making too much of an impact in the ww division, and this fight has the potential to be really good or really bad. I think Burkman will try to stand and bang with Pete just because he is hardheaded and end up getting dropped in the process. Pete Sell via ko...
attention whore
Join Date: Oct 2006
Location: Branson, Missouri
Posts: 14,445
Josh "The Work Man" Burkman hit some wonky, Mishima-like kicks in the Swick fight. Those were awesome in their wonkiness.

You are not one of The People's Warrior's people, I take it.
---
Burkman usually brings the goods, at least until he gasses, anyway.

Sell has had some bad breaks, although some of those were self-inflicted. I keep wondering if he's going to break out some of that black belt-level BJJ. And no, catching Baroni in a guillotine doesn't count.
attention whore
Join Date: Oct 2006
Location: Branson, Missouri
Posts: 14,445
Seems like all Sell knows sub wise is a guillotine. I loved it when Leites tooled him on the ground.
---
Nothing against Serra, but his "black belt" students haven't shown much jitz in MMA rings.
Flyweight
Join Date: Jun 2008
Location: The Barn
Posts: 408
Serra's jitz has never won him a fight against anyone in the top-ten(or even close to it). Tapping high level opponents is a pipe dream for him. Why would we expect anything from his students?

Drago will be knocked wonky from all the leg kicks he will eat.
---
My milkshake brings all the girls to the barn.
MOO!
#RUSH11/17/12
Megaweight

Join Date: Apr 2006
Location: Everett, MA
Posts: 5,961
Sell will lull Burkman into a slugfest in which Josh wont wake up from
---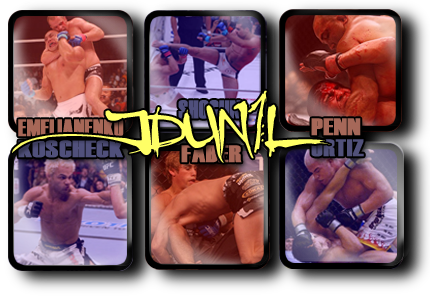 Mancrushes
1.Shogun
2.BJ
3.Fedor
4.Kos
5.GSP
Im in Porno's
Currently Active Users Viewing This Thread: 1

(0 members and 1 guests)
Posting Rules

You may post new threads

You may post replies

You may not post attachments

You may not edit your posts

---

HTML code is Off

---