Is Rashad's strategy to kick the sh*t out of Chuck's hamstring?
---
like Jardine did?
I'm sure he will incorporate these into his gameplan but he needs to try and take Chuck down or he's gonna get KTFO imo.
---
What a stud
Quote:
The power of Aleks, his small baby and pimp hardcore dogs has granted you useful insight, my friend.
I don't think he'll be able to get Chuck to the mat, especially if he struggled to get Tito there.
Good question.
It wouldn't surprise me to see Rashad throwing a lot of leg kicks, but then again Liddell has got to be expecting it.

Rashad has no choice but to keep this fight standing. Which is a big disadvantage to him. If he shoots for a takedown Chuck will stuff it, if he gets the take down Chuck will just get back to his feet.

I think the only advantage I'd give to Rashad would be in his speed. He's faster than Liddell. But speed don't mean shit when you're eating an overhand right.

Provided that Chuck doesn't look past Rashad this fight should be his ticket to getting his belt back.

*EDIT - What if Chuck went for the gameplan GSP used in his fight with Koscheck and *French Canadian accent on* "Took him out of his element" ?
---
Last edited by kc1983; 09-04-2008 at

02:54 PM

.
Well you'd think that and thats the problem. Its very obvious to me (surely chuck and his camp as well) that rashad is going to try and use kicks to pull out a decision.

Here is why I think thats a bad idea, if I was chuck I would make sure and get my take downs sharpened and ready for action. When he kicks practicing counter attacking (which is what hes good at) and better yet take rashad down then get right back up. If chuck plays this fight smart rashad should not be able to win a decision if chuck doesnt knock him out.
---
If a law is unjust, a man is not only right to disobey it, he is obligated to do so. ~ Thomas Jefferson
Sig by D.P.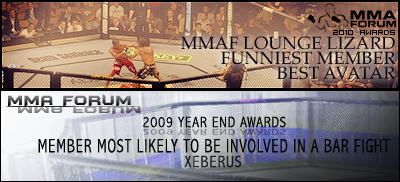 I think that will be part if his plan but Chuck probably knows that too and Hackelman has been training him to counter the leg kicks.
Currently Active Users Viewing This Thread: 1

(0 members and 1 guests)
Posting Rules

You may post new threads

You may post replies

You may not post attachments

You may not edit your posts

---

HTML code is Off

---