Does Anyone Think Cheick Kongo Will Last?
---
After watching the last fight for Kongo, I've lost faith in his fighting. It just didn't seem like he had the will power to make it through a tough fight. I believe that he is awsome when getting the upper hand, but when he has to overcome a bad start, he loses all hope for a win.

Tell me if you think he'll bounce back from that loss.
---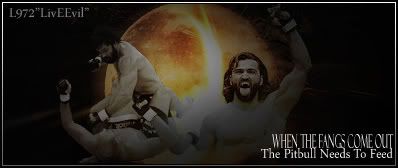 Do snowballs, melt in hell? (I promise they do)
So yes, he will bounce back, BUT he needs more training. (that was one big but) Before he is going to be more than filler material on someone elses resume.
---
WINNER - 1st post.
Flawless Victory!!
-Storm442
Quote:
Originally Posted by screenamesuck
why do people always count out a fighter loses one fight? He had a really impressive win the match before then he has a bad one. That doesn't mean he is going to lose every fight from now on. People have to have bad fights sometime in their career.
I'm not saying that he will lose every fight fromm here on out, but if you aren't ready to be one of the elite, IT SHOWS WHEN YOU LOSE!!!
I don't see why people feel the need to dismiss a loss like it doesn't tell anything. It does. It tells you how you handle the pressure and if you can take not getting the upper hand right away.
From what I saw, he doesn't handle things not going his way well and if you look at the great ones, even when they lose it's not a three round boring fight because they can't muster up the strength to try again when it not working right away.
---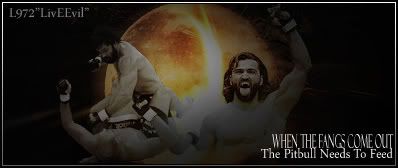 That last fight of Kongo's was not great, but it wasn't bad. I think Kongo was able to do more damage on Carmelo from the bottom than Carmelo was doing on top. Carmelo took no chances so Kongo couldn't capitalize on any mistakes. Kongo was bashing him with elbows in the later rounds once he was able to make some adjustments. Carmelo just took him down and smothered him the whole fight. Kongo will be back. I thought he handled himself better than most people when they're on their back. He'll train and be back even better.
That fight was TERRIBLE. That fat wrestler showed Lay and Pray at its best. Im glad he landed on his head because that was terrible.

I think Kongo will be ok, i just think his ground game is to weak to fight guys like Mir, Vera, or AA.
---
What is it that is going to be on your mind when you're on your death bed? Will it be the tedious years of 9 to 5, or the memory of some great acheivement. Maybe a moment you stood in glory to the applause of millions.
-Evan Tanner
Hopefully that awfule loss with make Chieck relize that he needs to be aggressive in the octogon, like he had been in his past fights. If the best Kongo steps into the octogon i think he could beat any HW in the UFC
Amatuer
Join Date: Oct 2006
Posts: 103
All the mad skills in the world won't keep you around if you keep putting up lackluster performances like that. It was almost like he gave up. Not gonna profess to knowing his mindset, just looked that way.
he did get a chance to show how hard he kicks, remeber that bruise on his leg. that was sick
---
people say either the world will end at 2012 or the aliens will finnally come back to us.....


i hope not cuz im writing a sci fi novel
MMA Fanatic
Join Date: Oct 2006
Posts: 3
I was soooooooooooo dissapointed by this fight, it was definitely the one I was checking for the most outside of the silva fight. Dude just seemed to not be there, normally he's a great fighter...
I was really disappointed by that fight, because I think I'd heard a little buzz about Kongo around these boards.

But as I recall it, Kongo wasn't particularly damaging as a striker and pretty useless once he hit the ground. I haven't seen any of his other fights, so I don't know if this is truly indicative of his skills or not.

While anyone can rebound from an off night, I wonder if the loss might expose weaknesses in his game that other (more talented) fighters can exploit. Also, I have to wonder if the UFC will give him the chance to fight again, given the underwhelming performance he gave against a part-time fighter.
---
qui‧e‧tus  [kwahy-ee-tuhs]
1. a finishing stroke; anything that effectually ends or settles
2. discharge or release from life.
3. a period of retirement or inactivity.
Currently Active Users Viewing This Thread: 1

(0 members and 1 guests)
Posting Rules

You may post new threads

You may post replies

You may not post attachments

You may not edit your posts

---

HTML code is Off

---