MMA Fanatic
Join Date: Aug 2008
Posts: 28
I think Rashad is a bit sensitive, I dont think he's taking the hate too well, hence why he makes these comments...

He's a good fighter who could be marketable I think...

I know a lot of people thought he was being a douche dancing to chuck's music, but I thought it was kind of funny... I have never seen anyone dance to someone else's entrance music... I think that threw chuck off a bit too.....
Flyweight
Join Date: Apr 2007
Posts: 325
Quote:
How's that?

You don't think the reaction might have something to do with a very popular 4-1 favorite getting knocked out in his latest bout?

If ANY wrestler not particularly known for his striking had knocked Chuck out that night, the backlash would have been the same or worse.

People don't like being wrong: A lot of them were.

People don't like losing bets: A lot of them did.

People don't like seeing their heroes getting KTFO'd in devastating fashion: A lot of them did.

There are a lot more likely reasons that people are hating on Rashad at this point other than the fact that he is black.
I can't remember the Chuck/Keith fight. I know it was a lot more boring. Did people booed like Evans? I also notice complaining with other fighers like Rampage, and even Anderson who people seem to fall back.
Never really read or heard anybody complaining about Chuck mad man scream, or GSP beatstreet break dancing(all of which don't bother me). Brock did catch some heat on the forums in his last bout but i think that had more to do with the whole wwf thing. I know at the bar nobody complained.
I don't have a problem with any celebration.
Quote:
They're mad at you because you're a show boating dick that plays a race card when people don't like something you do.

Here is an example of showboating taken from the same interview:


That's showboating. You could easily have said "I was never in trouble", "He didn't land anything good on me"

But no. You want to point out that the KO king of the UFC hit you with everything he had and you were shocked that it was so weak. No doubt because you are so rock hard, Rashad.

I can't wait for this guy to disappear.
I'm with ya on this one! Repped
---
Veni, vidi, vici, I came, I saw, I conquered- Julius Caesar
Quote:
The endzone dance is performed largely by black players, is what I mean.
Ah, well you are probably right, however Rashad showboats during fights as well. He has done it as far back as TUF.
It's pretty common for people to find those types of antict annoying and disrespectful, no matter who you are.
One thing the UFC and MMA in general has going for it is the respect the fighters have and the positive demeanor of most of the fighters.
WWE antics chipps away at that I think, and it would be a shame if it became more common.
Quote:
Yep. Regardless of what motivates it, posters here are being much harsher toward Evans for these comments than any stretch of the imagination would call for.
His comments about punching power more likely come from the psychological aspect of dealing with the mystique behind Liddell's power than it does trying to put him down.
His comments about cultural differences being behind how some people perceive him may or may not be accurate, but they clearly aren't racist or accusing people of racism.
This is why this thread is hilarious.
Could'nt agree more
. I was just gunna keep laughing at this thread but I decided to take the same stand as you do. But as for Rashad... I wish him nothing but the best of luck against Forest.
---
"Years ago we hardly had anything to eat. Now I earn more money and I see every opponent as a man that tries to put me back to that poorer period. That man has to be eliminated" -Fedor Emelianenko
Quote:
"If you think about it, it's like this, I'm not a white dude. My fighting style, that's not how I move and they're mad at me because I'm black. I got soul or rhythm or whatever you want to call it, but that's just how I get down."

I hate Rashad Evans
Hahah...laughing at the comment below the quoted statement. Yah I don't know what it is with that character. Don't really like em either. Hope he gets knocked out sooner than later.
Can't believe Rashad pulled out the race card! Its not that people don't like him because he's black its because he KTFO their favorite fighter. If I remember correctly the crowd wasn't exactly happy when Keith Jardine (who is as white as Larry Byrd) won a decision against Chuck!

Well, I still like Rashad and hope he does well when he faces Forrest!
---
You forget that this isn't just some brutal sport where everyones out to kill each other. Its much more like a game of physical chess.-looney liam
lol its definally not because hes black.. but i think hes rite about what he does... i mean if he wants to dance during/b4/or after the fight, let him go for it.. if he loses he'd look like an idiot tho lol.

but overall i like him, i guessed he would win vs liddell but not that way... cant wait to see him fight forrest that should be a war.
---
[SIGPIC][/SIGPIC]
Quote:
Yeah, I lost all respect for him with a comment like that.
I gotta be honest, I never really cared for Rashad as a fighter. After those comments I don't care much about him as a person either. Great knockout, but...
---
If a law is unjust, a man is not only right to disobey it, he is obligated to do so. ~ Thomas Jefferson
Sig by D.P.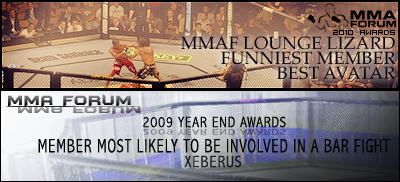 Middleweight
Join Date: Jul 2008
Location: Iowa
Posts: 2,615
It can see both sides of this. First of all i think most people are just pissed off because almost no one gave Rashad any credit then he goes in and ktf out of everyones poster boy. Ofcourse this will make people start talking shit about him. What the hell bring on the after celebrations it just makes the fighters wanna fight harder so they arent the ones getting celebrated on. I mean who cares really I would imagine its all done for fun meaning no harm in it. Just getting caught up in the moment thats all.
Currently Active Users Viewing This Thread: 1

(0 members and 1 guests)
Posting Rules

You may post new threads

You may post replies

You may not post attachments

You may not edit your posts

---

HTML code is Off

---