Miguel Torres Defends Title in Dec!
---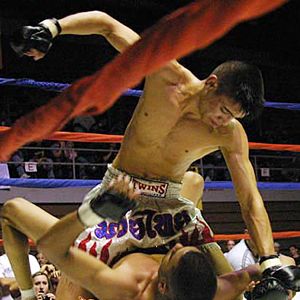 WEC bantamweight champ Torres to defend belt in December - SI.com - Mixed Martial Arts
Tuesday, September 16, 2008
Miguel Torres Ready To Defend WEC Title On December 3rd
WEC Bantamweight Champion and top ranked bantemweight in the world Miguel Torres is ready to defend his title on December 3rd as he tells MMAWeekly.com:
"I fight Dec. 3. I don't know who I'm going to fight yet, but I'm going to fight whoever they bring to me," Torres told MMAWeekly.com. "I don't know the venue. I think it might be in Vegas."
"Like I said, I'm down to fight whoever they have in my weight class. I think Manny Tapia will be an exciting fight because he'll want to bang the whole time. Brian Bowles too, is very explosive standing up and has a good ground game. But I'm hoping to fight anybody,"
Banned
Join Date: Aug 2007
Location: banned
Posts: 0
sweet i love watchin this kid fight.....
That's awesome I love watching Torres fight. He's so exciting.
One of the most entertaining fighters in the game... I'm down to see that for sure.
---
attention whore
Join Date: Oct 2006
Location: Branson, Missouri
Posts: 14,445
I hope it's Manny Tapia. I like Bowles, and I feel he's deserving, but Manny Tapia is someone I really dig right now. Of course, I dig the hell out of Torres, and I think he'll successfully defend his title once again.

Miguel's so good that he doesn't even need wrestling.
---
Torres will win by having an awesome mullet.
---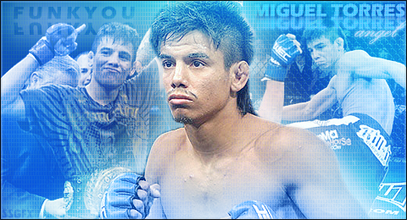 MMAFFL Record 4-1
While its awesome news that Miguel is fighting I am suprised it will be in Dec. That means the WEC will have a show in Nov and Dec? Hopefully they will get a fight for Varner lined up so it can be Torres and Varner defending on the card. Heck they could even throw Condit on there as well!
---

Gonzaga vs dos Santos - UFC on VS
Vera vs Jones - UFC on VS
Bibs vs Hansen - Dream 13
GSP vs Hardy - UFC 112
Gomi vs Florian - UFN 21
Nelson vs Struve - UFN 21
Thats great news I love watching him kick some serious azz..
---
.:H.O.F. Inductee:.
.:GFX-H.O.F. Inductee:.
Currently Active Users Viewing This Thread: 1

(0 members and 1 guests)
Posting Rules

You may post new threads

You may post replies

You may not post attachments

You may not edit your posts

---

HTML code is Off

---