View Poll Results

: Who wins

CB
24
61.54%
Jorge
15
38.46%
Voters: 39. You may not vote on this poll
Flyweight
Join Date: Nov 2006
Posts: 451
Quote:
Damn dude, I really have no idea what happenend in that season of TUF. I thought Dollaway was the guy that won! I was thinking, why would they put the winner of TUF against Jorge?

I love Jorge Rivera. The guy is one of those loveable journeyman that you just want to see succeed. Seeing him put a one man gang **** on Kendall Grove was great. As Cabby put it, Jorge for the ****in' win.
Amir owned CB twice.. armbar!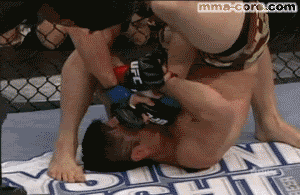 I like Jorge too.. but I think CB is gonna take this one.
---
"I'm going to try and kill you, Georges, and I'm not joking about that."

-BJ Penn
Rangers rule
Join Date: Nov 2007
Location: Glasgow, Scotland
Posts: 2,330
I can see this being a loser leaves town match. Please forgive the wrasslin lingo. I think Jorge will KO CB in the 2nd.
---

Thanks to Plazz for the awesome sig
http://www.mmaforum.com/hall-fame/47...-plazzman.html
Show him respect
Jorge by Ko
---
TEAM GROTTY 2013
Stefan Struve
Donald Cerrone
Glover Texiera
Cub Swanson
Kim Dong - Hyun.
Flyweight
Join Date: Feb 2007
Location: NH
Posts: 293
I got Jorge wining this by tko. I could definately see Jorge being kicked out of the UFC if he looses but not CB. If this fight hits the ground which it could I wouldnt be shocked if CB got the sub. Im sticking with Jorge by tko. I would have liked to have seen Kendal grove vs CB. I think CB would send him out of the UFC.
Banned
Join Date: Apr 2007
Location: Montclair, NJ
Posts: 11,605
Jorge won't be able to keep this fight on his feet. CB takes him down and either pounds him out, wins a decision, or submits him.

Dollaway is a better than a lot of people give him credit for.
I'll be honest I really do not like CB and will be rooting hard for Jorge but I think CB will win this fight. I hope not though...
---
Currently Active Users Viewing This Thread: 1

(0 members and 1 guests)
Posting Rules

You may post new threads

You may post replies

You may not post attachments

You may not edit your posts

---

HTML code is Off

---