Flyweight

Join Date: Nov 2007
Location: Spain
Posts: 491
Quote:
I agree that he's jib-jabbing a bit too much lately, maybe his win over Liddell has gotten to his head. But am I the only one on this forum that actually LIKES Rashad? I don't know why, but I just think he's so different than every other fighter out there. I see nothing but these cookie-cutter fighters that all look, act and fight the same way...but not Rashad. He just stands out for some reason, and despite whatever quirks about him that seem annoying to people, he's one of my favorite fighters.

I don't know...maybe I'm just loosing it. I'll go ahead and prepare for some neg reps after this...
Perhaps you like him because he is a jerk and the rest of the fighters are respectful to their opponents and don't act like the next big thing at every win?
Hmm, Evans has a degree in psychology. I'm guessing he minored in marketing, too, since it looks like him getting in the heads of UFC fans is going to pay off big for him, buyrate wise.
---
Quote:
Originally Posted by Joe Rogan
That longing to return to the retarded past can only be born of some collective, subconscious, internal desire to try to turn back the clock on humanity and halt our obvious progression towards the inevitable zombie apocalypse of 2012.
Jesus you beat him, we get it. It was impressive, now just shut the hell up before you ruin it all.

I was starting to like him, now this is just reminding how much I hate rashad.
Guys, relax. It was an interview. He didn't just say this off the top of his head unprovoked. The interviewer asks him to talk about striking with Chuck, and if you listen to the actual radio broadcast, you'll hear Rashad go on about how he was surprised by the accuracy of Liddell's strikes. "He's got heat-seeking missiles on his hands or something. There were a couple punches where I thought I was out of his range, but he still landed." He only mentions Buentello because the interviewer asks him, "was Chuck Liddell the hardest hitter you've ever been in the cage with?" So he makes mention to a HW that comes in and helps him train... really not that big of a deal.

The parts where he talks about his camp and the humility was pretty good.

"What makes us great is that we don't let our egos get in the way of each other. People come in and ask me, 'hey we hear you can't stop GSP's takedown' and instead of me getting upset, saying 'oh well Georges can't do this or that' I say, 'yeah Georges is a talented guys."

"People are reluctant to accept change. They don't like to accept that their heroes, their favorite fighters, might be getting old."

It was also interesting to find out that the woman screaming was NOT Rashad's wife. Wow, Rogan, way to assume the black woman behind you had to be Rashad's wife.

Spoiler alert - it appeared as though his brother did not do very well on the new season of TUF.
---
"I don't dink anyone en dis division can endure my riddum."
[QUOTE=Scarecrow;662814]But am I the only one on this forum that actually LIKES Rashad? QUOTE]

Yes
I like him. Anybody who takes you out of your comfort zone gives you a chance to examine yourself. Most people don't though, they just tend to attack whatever it is that's taken them out of their comfort zone. I like him.
Why is everyone still hating on him? He didn't say anything disrespectful in this article.

The only thing he did was to point out that Chuck doesn't hit as hard as a HW...

Seriously... He simply answered the questions asked of him by the interviewer. He could have given a completely boring and evasive answer that all these "classy" guys would have given. I'd much rather hear the truth and have it piss off all the Chuck nuthuggers, than have him say nothing simply to appear classy to the sheep.

Some people just need to relax and/or spit out Chuck's nuts.
---
Geez, i've never like Rashad since TUF but with all the negative attention he is getting it's really hard to keep disliking him.
It's the backlash backlash syndrome, stop it!
Quote:
I can't speak on the difference between the power of Liddell or Buentello, because I'm a fan of both.
But I really don't like anything about Rashad Evans.
I'd love to see him get knocked out by basically anybody.
Exactly. I don't really care what he says. I have no respect for the guy, and can't wait to see him KO'd on the mat.
---
If a law is unjust, a man is not only right to disobey it, he is obligated to do so. ~ Thomas Jefferson
Sig by D.P.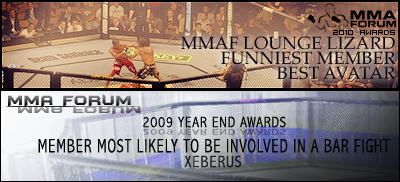 attention whore
Join Date: Oct 2006
Location: Branson, Missouri
Posts: 14,445
Rashad is the man.
---
Currently Active Users Viewing This Thread: 1

(0 members and 1 guests)
Posting Rules

You may post new threads

You may post replies

You may not post attachments

You may not edit your posts

---

HTML code is Off

---