Victorious Joe Lauzon seeking return to UFC main card
---
Quote:
From main event to undercard, perhaps no fighter has fallen so quick in the course of a single fight.
Such was the situation facing UFC lightweight Joe Lauzon (17-4 MMA, 4-1 UFC) heading into his "UFC Fight Night 15" bout with Kyle Bradley. But Lauzon recently told the crew of TAGG Radio (
www.taggradio.com
), the official radio partner of MMAjunkie.com (
www.mmajunkie.com
), he wasn't too disappointed at the change of position.
"I think it was because I basically wasn't fighting a 'name' opponent," Lauzon said. "I don't think Kyle really had a big name going in. I think they're trying to get both guys to be the draw instead of just one guy."
Just five months ago, Lauzon was featured in the main event bout of "UFC Fight Night 13" against Kenny Florian. A disappointing second round TKO loss to Florian was Lauzon's first in seven bouts.
On Wednesday night Lauzon capitalized on his opportunity to score a TKO of his own over Bradley. And while the undercard bout did not make it onto the Spike TV broadcast, the former IT professional's win is currently being streamed for free on the UFC's official web site.
"I'm not disappointed," Lauzon said. "I'm just happy it's online. Everyone got to see it. That's the main thing."
The loss to Florian in April was Lauzon's first in the UFC. The win over Bradley puts Lauzon back into an enviable position at the top of the organization's stacked 155 pound division.
The 24-year-old said he isn't sure who the UFC will put in front of him next.
"Nothing's been offered yet," Lauzon said. "I really don't care who I fight. I'm going to train my ass off, and I'll be ready for whoever.
"It doesn't matter who they want me to fight. I'm not going to be the guy trying to pick his opponents."
But regardless of who Lauzon faces, the Boston resident hopes the bout will be pushed a little further up the card.
"I was the main event last time, I was on the undercard this time," Lauzon said. "Hopefully I'll make the main card next time."
http://mmajunkie.com/news/5318/victo...-main-card.mma
---

Kovalev - Golovkin
Joe has a lot of talent, he looked very good in this fight, I am sure he will go up the latter and fight for the title soon.
I like watching J-Lau fight. He's very entertaining and talented. He should definitely be on the main card again.
---
Megaweight

Join Date: Apr 2006
Location: Everett, MA
Posts: 5,961
I like Lauzon alot. Him and Kenny rep Boston well and make me proud.
---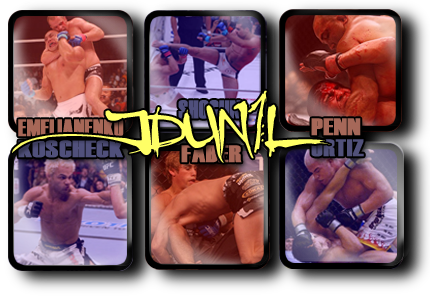 Mancrushes
1.Shogun
2.BJ
3.Fedor
4.Kos
5.GSP
Im in Porno's
Banned
Join Date: Apr 2007
Location: Montclair, NJ
Posts: 11,605
He should be on the main card but honestly his win over Kyle Bradley means nothing to me. Bradley is a pretty bad fighter.
Currently Active Users Viewing This Thread: 1

(0 members and 1 guests)
Posting Rules

You may post new threads

You may post replies

You may not post attachments

You may not edit your posts

---

HTML code is Off

---