lol @ this thread.
---
Fav. Fighters

1. Georges St. Pierre
2. Quinton Jackson
3. Anderson Silva

"If Your Not Cheatin, Your Not Tryin Hard Enough" Tito Ortiz
Forum Bets
54-15
Quote:
he gassed in those fights....houston hit him w/ two blistering knee's....and schafer just kept coming....he's refocused and ready to become a champion i think
Yeah, takin two "big knees" qualifies him for a title shot.
Against Anderson Silva. lol! Or maybe Forrest!
Okay..........
I got this..............
Schafer VS Couture.......Who Takes It? ***Official Poll*** LOL!!!
---
_RIVALS TOP 10

ANDERSON "THE SPIDER" SILVA
JAKE SHIELDS
NICK DIAZ
EDDIE ALVAREZ
JUNIOR "CIGANO" DOS SANTOS
GILBERT MELENDEZ
MAMED "THE CANNIBAL" KHALIDOV
HECTOR "SHANGO" LOMBARD
CAIN VELASQUEZ
GEGARD "THE DREAM CATCHER" MOUSASI

Yea!!!! forrest is screwed, i heard eric "the red headed step-child" schaffer is why fedor wont join the UFC, he's afraid eric will move up and own his ass!
---
If a law is unjust, a man is not only right to disobey it, he is obligated to do so. ~ Thomas Jefferson
Sig by D.P.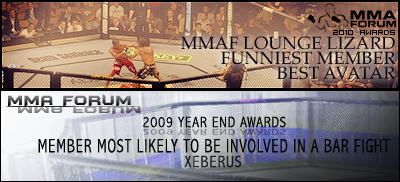 ---
but he beat houston alexander!!!!!
Light Heavyweight

Join Date: May 2007
Location: Melbourne, Australia
Posts: 3,474
Quote:
houston beat jardine...who beat liddell..arguably the best striker @ 205

houston was arguably undefeated...his only "loses" were via early stoppages

schafer has been in there w/ some of the best...and he survived and made them tap
This is some impressive MMA math. Houston bum-rushes the dean of mean and suddenly he has some of the best striking in the LHW division.
I've never seen such flawed logic applied so flawlessly.
Such a stupid thread. Nothing thats been said is even funny.
Agreed with all of the above who critised this thread!

Fanboy...

its only a bit of fun. U dont have to be so serious all the time. Besides i wrote this thread wen i was wasted.
Currently Active Users Viewing This Thread: 1

(0 members and 1 guests)
Posting Rules

You may post new threads

You may post replies

You may not post attachments

You may not edit your posts

---

HTML code is Off

---