Bisping VS Griffen
---
Heres a fight they might want to set up in the future IMO

Bisping (And I know Im not the only one who agrees with this) has shown the most impressive debut I've seen... We ALL know he'll walk through his next fight they have him set for. Griffen is due for a fight now soon too...

Who do you think would win? Skill wise you know we have to go with Bisping, but DAMN Griffen doesnt know the word quit.

PLUS, whoever wins THAT fight is probably close to a title shot
Quote:
Originally Posted by johnbender
Heres a fight they might want to set up in the future IMO

Bisping (And I know Im not the only one who agrees with this) has shown the most impressive debut I've seen... We ALL know he'll walk through his next fight they have him set for. Griffen is due for a fight now soon too...

Who do you think would win? Skill wise you know we have to go with Bisping, but DAMN Griffen doesnt know the word quit.

PLUS, whoever wins THAT fight is probably close to a title shot
Are we already talking about Bisping getting a title shot?
I would think that he would have to get through 3 maybe four more fights before he gets a title shot. I like the man, I think that he showed well in and out of the ring, but he needs to be proven more than just on a TV show.
I would like to see him work his way up. To me that's some of the best fighting. Sometimes I want the foreplay and not just the ****ing.
---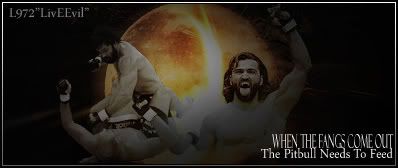 good point
---
Ya man not saying he deserves a shot just yet... But I think if those 2 did fight, not only would it KICK A$$ and sell lots of tickets, it would springboard one of them up the ranks pretty quick!
I love how calm and cool Bisping was before his fights, and how focussed he was in the cage. How many rounds you think it would go?
I say 2nd round ko Bisping...
Quote:
Originally Posted by Chrisl972
Are we already talking about Bisping getting a title shot?

I would like to see him work his way up. To me that's some of the best fighting. Sometimes I want the foreplay and not just the ****ing.
Bisping defanitly is a good fighter, but he is not ready for Chuck or even Tito if he wins the next fight. And what about other fighters standing in line for the title.
With that being said fighting Griffin would be a great test for him. Griffin is very impressive. I would take Griffen by split desision.
Another good fight for him might be Matt Lindland, see what he can do against a good wrestler.
your going with Griffen?
---
Ya I suppose he has a shot at beating Bisping... I mean its kind of hard to say, we havent seen a whole lot of the guy yet.

Just that I've been watching MMA so long and the only other person that impressed me SO MUCH, SO FAST, was Belfort.
Im kinda disappointed in him disappearing the past few years, I heard about his sister. Wonder how much impact that had on the poor guy.

Point is, IF he is as good as he APPEARS to be, he might just be a contender one day soon. Like 4 fights away maybe. Especially if he pwnes his next few fights the way he did the first few. Whats the name of the guy hes fighting at Ultimate fight night? As far as I recall its pretty much a cakewalk?

and Speaking of Belfort... Anyone think he can get back to the PHENOM he once was? (Crossing fingers)
MMA Fanatic
Join Date: Sep 2006
Posts: 27
I think Bisping should prove himself a bit more before stepping into the octagon with Griffin. Bisping has had what, one UFC fight where he won TUF? And geez, pretty much the entire world had him marked to win that fight. He has an 11-0 record but the light heavyweight division is so deep that I still think he needs to prove himself.

Griffin had 2 fights before he stepped into the cage with Ortiz. I think Bisping should have at least one "winnable" fight (although no UFC fight is a cake walk, just ask Ed Herman) and then a fight against someone he should beat, but might have a tough time. If he wins both fights, then sure, allow him to face Griffin.

I just don't want Bisping being thrown into such a high profile position this early when it could only lead to his downfall.
I know he hasnt exactly reach CONTENDER status just yet lol
But if not Griffen? Then Who? The guy hes set to fight next shouldnt be too much a problem for him...
So if he walks through this next fight, (Which he probably will)
Then if not Griffen, who?
I just havent been able to think of a more suitable test...
LEGEN...wait for it...DARY

Join Date: Jul 2006
Location: Georgia
Posts: 5,066
Quote:
Originally Posted by sxrxnrr
Another good fight for him might be Matt Lindland, see what he can do against a good wrestler.
Lindland is a MW. Not a LHW. Nad he does not have a contract with the UFC anymore.
To the person who said the LHW division is deep.
Are you joking? The division is hurting for talent. There is Tito, who Chuck killed once. There is Babalu, who Chuck killed twice. Then there are a bunch of guys that aren't ready like Rashad, Forrest, and Bisping. I think Rashad and Babalu should fight and Forrest and Bisping should fight. These fights should take place at a Fight Night. If Dana was serious about extending his viewing audience he would actually set up some good fights for Spike. Not these one-sided fights or fights between nobodies.
I certainly do not think Forrest is someone anybody should have to fight their way up to. Bisping would give him a good fight, but I haven't seen enough of his jiu-jitsu to pick him over Forrest. I have seen Forrest get hammered and never stagger. I have seen Bisping get hit and stagger. And htough I certainly give the striking skill to Bisping I think Forrest has much quicker hands. I like Bisping more but this would be a very hard fight for him to win.
---
Flyweight
Join Date: Oct 2006
Posts: 376
i almost completely agree with zztiger... are you guys joking???

uhh he has to prove himself b4 he can fight forrest.. forrest is a nobody in the real mma world.. he got famous becuase he couldn't knock out sorry ass stepen bonnar! what the hell are u guys talkin about.. u guys give in to to much hype by dana white..

forrest is certainly not anybody u have to work your way up to. he is un proven and possibly most overrated... he has sucky striking (his specialty) and doesn't even have power.. and punches at a rate of 1 to 2 hits per 10 sec.. u guys give in to so much hype. he is not champion material...

do you guys know bisping is number 1 iin europe as his british buddy stated on the show? jesus christ ufc fans need to learn their shit.. ive seen many of his fights and forrest is shit.. no treat to bisping..

note to ufc fans stop giving into warrantless hype by the ufc.. i like it alot but have some common sense
attention whore
Join Date: Oct 2006
Location: Branson, Missouri
Posts: 14,445
Bisping's untested, but he shows promise. He doesn't deserve a title shot right now. Hell, Griffin doesn't deserve a title shot now. The LHW division is thinner than Couture's hair.
---
Currently Active Users Viewing This Thread: 1

(0 members and 1 guests)
Posting Rules

You may post new threads

You may post replies

You may not post attachments

You may not edit your posts

---

HTML code is Off

---