Amazing card, looking forward to Silva/Page III the most.

Nog will be able to show off some nice skills in this fight.

Mir can't even take him down, so it's up to Nog where this fight takes place. I think he'll just box Mir, he could even knock Mir out.
---
Fedor fights I want to see..
Fedor vs. Josh Barnett
Fedor vs. Randy Couture
Fedor vs. Tim Sylvia -
DEMOLISHED
Fedor vs. Andrei Arlovski -
DEMOLISHED
hmmmmm, i wonder how many become reality..
2007
Rampage / Silva makes this card IMO.

I'm pretty sure the Mir / Nog fight is going to look good for the first round and escalatingly become one-sided after that with Nog winning by TKO or Sub depending on how much Mir gasses.

I hope I don't get flamed, but I could care less who wins in the Griffin/Evans fight as I don't see either of them holding on to the belt for very long (they have to give Machida his title shot eventually).

The Rampage / Silva fight is going to be crazy, though. We will undoubtedly see the best Rampage against Silva, who seems to have evolved into a different beast himself. Styles make fights and both men's styles have changed a bit.

I'm picking Wand, 'cause he's one of my favorite fighters, but in all honesty... I just don't know how it's going to turn out.
---
Don Frye's Mustache > Kimbo's Beard
Last time I remember 2 titles on 1 card was back when Big Nog debuted at UFC 73. Great news, and even better way to close out the year. Hard to top what the UFC is putting out month after month.
---

This Time ... Break It!
FFL Season 3: 11th Place
Quinton Jackson vs. TBA
Gesias Calvancante vs. TBA
Fabricio Werdum vs. TBA
Thales Leites vs. Anderson Silva
This card is amazing!!!

I have Nog by TKO late in the fight, long after Mir gases.

Look at my profile pic to see the future LHW champ.

And honestly, I have no idea who's going to win the Wandy/Rampage fight. I could easily say Wandy by destuction, but Rampage just looks so brand new right now. He looks like he could take out all his aggresions in the octagon and rush Wandy down getting a devastating knockout. Wandy is smart, but there is no question that Rampage is the stronger fighter.

I see this fight either ending in quick KO for Rampage, or TKO/KO for Wandy in the second or maybe third, but second probably.

(edit) fixed a bad grammar error
---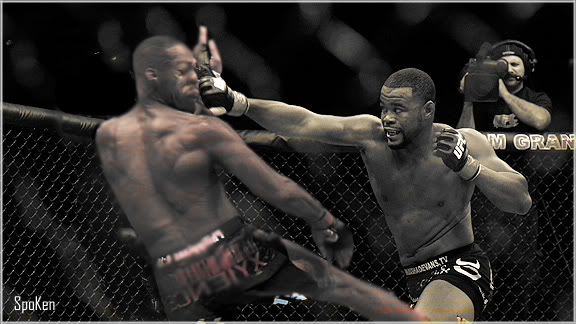 Sweet sig by Life B EZ
I feel like I get paid way to much money, but not enough -Nick Diaz
wow what a nice card the two titles wand vs rampage, okaim vs lister should be good too and who knows what else
---
Team Link Member

NPFFL: Evan Dunham, Daniel Cormier, Jim Miller, Cole Konrad
Oh my lanta this card is stacked.
Super Heavyweight
Join Date: Feb 2008
Posts: 4,079
honestly i dont see any great improvement for rampage seen his annihilation against silva . i say wandi via tko 2 rd
I can't wait for this.

Wanderlei is going to knock Quinton out for the highlight of his career.
Bantamweight
Join Date: Mar 2008
Posts: 830
What a card!!

I want Forrest, Mir and Wandy to win!
Currently Active Users Viewing This Thread: 1

(0 members and 1 guests)
Posting Rules

You may post new threads

You may post replies

You may not post attachments

You may not edit your posts

---

HTML code is Off

---