View Poll Results

: Who will win? Hughes Or St Pierre?

Matt Hughes sneaks off a GNP win AGAIN
17
42.50%
St Pierre sends Matt back to the barn to regroup
23
57.50%
Voters: 40. You may not vote on this poll
I hope Georges wins but I think Hughes will come out on top again!
---
You forget that this isn't just some brutal sport where everyones out to kill each other. Its much more like a game of physical chess.-looney liam
Quote:
Originally Posted by Chrisl972
I have always been a big fan of Matt Hughes' fighting, but I want to see GSP take it to him and win the title. Just think of all the resuffling that would do to that weight class.

GSP in the 2nd.
In the Rashad thread didnt you say you hate ground n pounders and the style sucks. But you like Matt Hughes' fighting?
Quote:
Originally Posted by asskicker
In the Rashad thread didnt you say you hate ground n pounders and the style sucks. But you like Matt Hughes' fighting?
I like the slams that he brings and the fact that he comes back from the brink of defeat. I still stand by the comment about GnP.
---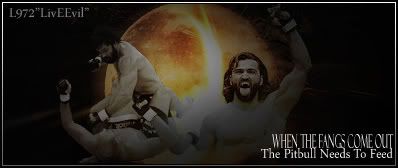 You Got Tickets??!?!?
---
Wanna be my new best friend? lol

Ya I didnt know if I could even change the thread once I made it, oh well.

I've been pretty active for my first day though... Ive been reading this forum for about 2 months now and finally joined, so heeeeeeeey everyone lol

Ill be around for the long haul boys

Kick his A$$ St Pierre


GO BELFORT!!! (I miss that guy lol)
It would be great if GSP beat him by armbar to return the favor.
---
All Time Favorite Fighters
1. Ken Shamrock
2. Randy Couture
3. Don Frye
4. Frank Shamrock
5. B.J. Penn
6. George St. Pierre
Hey Bonnar
---
Ive been reading your posts for the past few months, along with Flying knee etc... Just joined today. Nice to meet you! I agree with most of what you say (usually lol)

Come on man dont give up on Pierre. I know Matt has found a way to win lots before, but George is a SICK BASTARD in that cage, I have no doubts this time!

NO MORE COUNTRY BREAKFASTS BABY!
MMA Fanatic
Join Date: Jul 2006
Posts: 44
GSP in the 2nd or 3rd...

probably by KO
The Cat Smasher
Join Date: Jun 2006
Location: Toronto, Ontario, Canada
Posts: 583
Georges St. Pierre in the 2nd round by TKO or Submission.
---

My Favourite Fighters
Ken Shamrock
Vitor Belfort
Fedor Emelianenko
Georges St. Pierre
Wanderlei Silva
Rich Franklin
Mark Kerr
Chuck Liddell
Robbie Lawler
B.J. Penn
Mirko "Cro Cop" Filipovic
Mauricio "Shogun" Rua
Chris Leben
Nick Diaz
I can see Hughes picking up yet another very impressive win over St Pierre, as Trey said, he is arguably the most popular star in the UFC anf there is a reason for that, enough said.
I bet heavy on GSP but now I am thinking Hughes will pull it off again. Champions find ways to win and Hughes has been impressive in his run. I think Franklin losing his belt was a smack of reality for him too.
Currently Active Users Viewing This Thread: 1

(0 members and 1 guests)
Posting Rules

You may post new threads

You may post replies

You may not post attachments

You may not edit your posts

---

HTML code is Off

---