St. Pierre Joins Beckham, Jeter in Mainstream
---
Quote:
Ultimate Fighting Championship welterweight champion Georges St. Pierre has signed with CAA Sports, a division of Creative Arts Agency, one of the largest entertainment and sports agencies in the world.

CAA Sports will work with St. Pierre, alongside manager Shari Spencer, to help build new marketing and endorsement opportunities along with using the agency's resources to create new endeavors in movies, television, licensing and digital media.

"Beyond being a fierce competitor and a tremendously skilled fighter, Georges St. Pierre's class, integrity and humility also make him a terrific ambassador for the sport," said Howard Nuchow, co-head, CAA Sports. "We look forward to creating opportunities for Georges that cross international borders and build upon his widespread appeal."

CAA Sports is a world famous agency currently representing over 400 professional athletes, including the last five NFL MVP's, and other sports superstars such as New York Yankee's captain Derek Jeter, and international soccer player and celebrity David Beckham.

"CAA Sports is the best talent agency in the world and an ideal partner to guide the professional growth of the world's best fighter," Spencer commented. "Georges' appeal transcends the Octagon and I am confident that together we can introduce Georges, and the entire sport of MMA, to a wider audience."

The addition of St. Pierre to the growing roster of athletes at CAA Sports is a huge move for both the fighter and the entire MMA industry. CAA is an extremely recognizable company worldwide and their reach will expand St. Pierre's marketability in many different areas that MMA hasn't seen yet.

The significance of the signing of St. Pierre with CAA may not be seen on the surface to the average MMA fan, but in the long run the deal could be huge for both the fighter and the industry.

"The significance may not be apparent at first, but it represents a huge step toward mainstream acceptance, not only for Georges, but the entire sport of MMA," Spencer said in an interview with MMAWeekly.com "Georges now joins the ranks of other iconic athletes in individual sports, such as Jimmie Johnson in NASCAR, David Beckham in soccer, and Sidney Crosby in hockey."

St. Pierre could branch out into many different areas through his deal with CAA, and his manager feels the potential is limitless.

"CAA has an extensive network of corporate marketing clients, not to mention being the best talent agency in Hollywood," Spencer commented. "So in terms of pure deal flow, we anticipate that the relationship with CAA will provide an accelerated access to opportunities that would take me, working alone, much longer to cultivate.

"And working with an athlete who's earning potential is limited by the age of his body, unless he's Randy Couture, it's in Georges' best interest to position him with these opportunities sooner rather than later."

One question that has to be raised is the ability for new sponsors who work with St. Pierre to be visible during his time on UFC broadcasts. The promotion currently has the final say in any sponsors who are seen in their broadcasts or ads.

"I've apprised CAA of the guidelines for sponsor approval with the UFC in order for us to create the appropriate sponsor packages," Spencer stated. "In other words, it depends on the category whether or not the package can include Georges displaying the sponsor's logo on his attire, banner, etc."

St. Pierre is considered one of the top MMA fighters on the planet and with the addition of the CAA group his star power may reach a whole new audience of fans in the future.

"I'm very excited to be working with CAA," St. Pierre commented. "They represent a lot of great athletes and I'm honored to be associated with them."

The partnership between St. Pierre and CAA Sports will begin immediately as the Canadian prepares for his next bout, most likely against UFC lightweight champion B.J. Penn in January.
---
Bantamweight
Join Date: Jul 2006
Location: London, Ontario, Canada
Posts: 509
Wow, this is amazing news! Good for him, there couldn't be someone more deserving. Hopefully all the mouthy cocky fighters with nothing to show will take a page from his book and realize what a big pay day this is for him (as well as the fame)
---
I Have A Heterocrush on GSP
Quote:
Fedor is ****ed. I just Googled "Arlovski" and that's the guy with the vampire teeth!
---
Last edited by SlammedSL1; 10-06-2008 at

02:25 PM

.
See, this just goes to show that if you take your vitamins and say your prayers, anything is possible in MMA. It probably helped that GSP didn't go on an energy drink fast after his first Serra fight too!
Thanks for the update!
---
A groan of tedium escapes me...
Awesome!
MMA takes another step forward
---
If a law is unjust, a man is not only right to disobey it, he is obligated to do so. ~ Thomas Jefferson
Sig by D.P.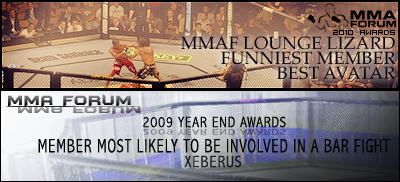 Soooo, we'll be seeing St Pierre featured prominently on gossip magazine covers about how he had a secret affair with some married hollywood starlet?
Well, whatever moves the sport into the mainstream I suppose.
Heavyweight
Join Date: Apr 2007
Posts: 3,709
he's going to be the richest mma fighter ever if this goes well for him. He's set for life.
Flyweight
Join Date: Aug 2006
Posts: 292
This must have to do with the fact that his contract is expiring soon. Dana will have to pay him whatever he wants, because he can't risk losing him to Affliction.
Flyweight
Join Date: Aug 2008
Location: Minnesota
Posts: 214
This is definitely good news. I dont think there is a better choice that could be made. He's reasonably young (27) with probably at least 4-8 more years of dominance in him, a credible fighter (not a hype machine), and one of the most humble and honorable guys in the sport.
GSP totally deserves all the money and promotion he'll get.
Quote:
This must have to do with the fact that his contract is expiring soon. Dana will have to pay him whatever he wants, because he can't risk losing him to Affliction.
If thats true, then it'll be REALLY interesting to see just how crazy the bidding war gets.
The only negative is if GSP actually was to leave the UFC and go elsewhere, because the UFC is the only organization with a good amount of talent in the WW division... I dont want to see GSP wasted in some organization fighting sub par fighters, rather than watching him against the top competition in the UFC.
Its just so damn hard not to like GSP... I mean how can you not like the guy????
Good news for GSP and the world of MMA.
too bad he won't be in UFC Undisputed 2009
Quote:
too bad he won't be in UFC Undisputed 2009
How come?
Some big name people in their sports. This is a good opportunity for St Pierre and the sport to move forward.
Currently Active Users Viewing This Thread: 1

(0 members and 1 guests)
Posting Rules

You may post new threads

You may post replies

You may not post attachments

You may not edit your posts

---

HTML code is Off

---