Gonzaga would probably run through Lesner...bad...
Quote:
Yeah I'm totally mistaken my bad. Herring is a chump when it comes to striking. Someone should tell him to go back to his "I landed a head kick on Big Nog" club and hang out with all the other shitty strikers in that club.

Do you have that fight? Do you think that if I sent you a blank VHS in the mail you could record it for me?
Oh because he landed a head kick (that didn't win the fight for him) he has good striking? Hey I know you probably don't know this but Nog has fought herring 2 other times before the fight in the UFC. Herring lost those as well.
GG via KO or Sub.
GG is in a whole different league than Lesnar and is probably the worst matchup for him, with a possible exception of Big Nog(who is a bad matchup for anyone not named Fedor lol)
---
*_*_*_*_*_UFC FANTASY TEAM*_*_*_*_*
Wanderlei Silva
Evan Tanner
Kenny Florian
Alan Belcher
Alessio Sakara
Had to comke out of forum-posting retirement for this...

I think Gonzaga would lose to Lesnar. Not saying Brock would win- but I do believe Gonzaga would lose. Even if he has the tools to actually beat Lesnar he won't use them once he gets hurt. Look at his fight against Randy and Werdum. GG basically gave up, and once he does its over.

And Mir took a pounding to the head but overcame that and didn't give up, a pounding that GG would not overcome.

I say Lesnar takes GG down, hits him repeatedly without making the mistake of hitting to the back of the head, no standup, and GG will give up mentally.

TKO win for Lesnar.
Megaweight

Join Date: Apr 2006
Location: Everett, MA
Posts: 5,961
Terrible matchup for Lesnar. If Gonzaga can work on his cardio he will be UFC champ one day. I actually think he could beat Nog. He has better stand up I think he would be able to do whatever he wanted with Nogueria. Pure bjj wise Gonzaga is better than Nog IMO. Unless he gassed, I cuold see him working Nog.
---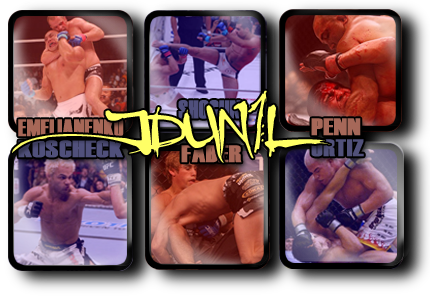 Mancrushes
1.Shogun
2.BJ
3.Fedor
4.Kos
5.GSP
Im in Porno's
Quote:
Yeah, I think a big part of the problem with Herring is that Herring did nothing better than Brock really. Because Herring's jitz and standup are only average for the HW division, he couldn't use either to nullify Brock's wrestling. And Brock obviously had both the wrestling skill and size advantage.

Let's face it, Heath is experienced, but he just isn't that good. He was 4 and 4 in his last 8 fights before fighting Brock. He lost to Jake Obrien and Sam Greco FFS, Greco is a really mediocre grappler and O'Brien has no skills outside his wrestling. Besides a split decision win to Kongo (who strangely decided to make it a wrestling match, to Heath's advantage) his last meaningful win was against Igor Vovchanchyn in 2002.

So Brock deserves commendation for beating Herring, but let's not pretend he's vetted now. He has yet to beat a guy with any top-flight skills.
did u really just use the Greco fight as leverage against Heath? Have you ever watched the fight?
Quote:
did u really just use the Greco fight as leverage against Heath? Have you ever watched the fight?
yeah. greco had virtually no grappling ability. heath took him down and hung out in side mount inflicting no significant damage, leading to a standup. then he managed to slip and TKO himself.
my point was that greco, despite having no guard to speak of, was still able to largely nullify Heath's GnP. Heath just isn't that great of a fighter these days.
---
Everybody good, plenty of slaves for my robot colony?
I'm picking the stealer of Cro-Cop's soul by sub or KO.
---
Don Frye's Mustache > Kimbo's Beard
Banned
Join Date: Apr 2007
Location: Montclair, NJ
Posts: 11,605
I don't understand how someone could pick Lesnar?

The guy has power and wrestling at this point.

Meanwhile Gonzaga has power, and World Class BJJ.

So if Brock keeps it standing he has a chance but he won't be able to finish the fight without going to the ground where he doesn't stand a chance.

People keep talking about the Herring fight and how people where picking Herring and now that he lost they aren't giving him enough credit.

Well I picked Herring because I thought Lesnar would GnP to much and gas. He proved to me in that fight he's alot smarter then I gave him credit for and that he has good control and power.

But people are acting like beating an expierenced fighter makes him great. Herring hasn't been impressive in a long time.
Quote:
You must of not seen Heath Herring get the same thing done to him by Jake O'Brian? Go watch that fight, Herring sucks when it comes to wrestlers.
Jeez, you really milk the whole "you must not have seen that fight" angle. LOL. The thing I love most about a hotly debated topic is that first off, 1)none of use really knows 2)we're all usually intelligent enough on the fighters that after the first page of analysis on any fight we are all really just flying our fan flag after that which is cool. But the best part is getting someone cornered to the point that they start saying things like "A high kick to Nog's head? Meh..no biggie, any slack jawed ass clown can do that" By the time you get this deep into any thread the arguments are never really any better then "lucky punch" v. "good punch" and "He beat him badly" v. "He mauled him"
Well I'm off to go watch some more fights I've never seen. Anyone heard of this "Matt Hughes" character? I will let you know if this highlight video is good.
---
A groan of tedium escapes me...
Currently Active Users Viewing This Thread: 1

(0 members and 1 guests)
Posting Rules

You may post new threads

You may post replies

You may not post attachments

You may not edit your posts

---

HTML code is Off

---