Flyweight
Join Date: Oct 2008
Posts: 219
BJ "The Vampire" Penn
---
I became a BJ Penn fan after watching Matt Hughes/Penn II. Watching Penn stuff Hughes' takedown attempts with almost comic flexibility, and then taking Hughes's back, was mesmerizing to watch.

But after BJ Penn vs. Sherk, I stopped being a fan. And simply watched his antics with a disdain I now only hold for WWE performers.

It's one thing to hype a fight by saying you're going to lick your opponent's blood, but to actually DO it, while your beaten opponent is on the ground, and unconscious, with security surrounding him, is just plain disgraceful.

And then there's BJ Penn refusing to release a rear naked choke on Jens Pulver on TUF.

As brutal as MMA is, it is still a hybrid martial art form, and this entails respecting one's opponent, rather than humiliating them.

Has anyone else's views on BJ Penn changed as a result of his antics?
Quote:
Has anyone else's views on BJ Penn changed as a result of his antics?
bj's actually grown on me. i used to hate his arrogance, but he's never afraid of anyone and he backs his sh*t up.
i don't care for his blood licking antics, but i like his arrogance.
eager to fight that monster (GSP) so willingly deserves respect.
"you wanna do it george? you wanna do it?!"
LOL
Well, not releasing a submission hold after the ref is trying to pull you off is pretty shady...

As for his licking his bloody gloves, I don't think it's disgraceful, just a little weird :P
MMA Fanatic
Join Date: Feb 2008
Posts: 16
I hope GSP destroys penn on their upcoming fight
A similar thing is when Tito does his gravedigger crap after a victory. It's pretty disrespectful, but then again, he did just beat the guy, so it's hard to argue with it.
Banned
Join Date: Oct 2008
Location: California, USA
Posts: 286
I cant stand penn.We can take comfort in the fact that GSP is going to beat him like a red headed step child at ufc 94
I like Bj Penn, he talks smack because he can back it up. Gsp will beat him in their next fight tho.
---
Fav. Fighters

1. Georges St. Pierre
2. Quinton Jackson
3. Anderson Silva

"If Your Not Cheatin, Your Not Tryin Hard Enough" Tito Ortiz
Forum Bets
54-15
I don't like Penn, simply because I just don't like him. I just never liked him, ever.

Sure, he does things that make me dislike him more, but I never say I dislike him for that one thing. I just don't like him.

1, licking blood, not cool. Kinda weird.. and just not cool.

2, holding a choke is never okay by me, holding ANYTHING or doing ANYTHING while the ref is trying to stop it makes you look like a dick. That's why I hate Kid yamamoto.

3, eh, GSP will beat him. So i'm cool.
---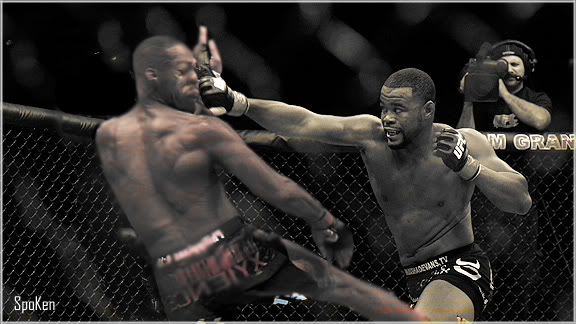 Sweet sig by Life B EZ
I feel like I get paid way to much money, but not enough -Nick Diaz
I agree fully with you TC. BJ is a weird dude and I just don't care for him as a person. But he's always enjoyable to watch in a fight.
Personally I have never liked Penn. But I will respect him as a fighter because he is great. And it seems like guys that work with him say he is a really nice guy. Shoot he even acted friendly to Pulver after their second fight. So I think outside the UFC he is probably a good guy but since I have only seen him in the UFC I'm going to have to continue to dislike him.

And I'm picking GSP to beat him.
Currently Active Users Viewing This Thread: 1

(0 members and 1 guests)
Posting Rules

You may post new threads

You may post replies

You may not post attachments

You may not edit your posts

---

HTML code is Off

---