Flyweight
Join Date: Oct 2008
Posts: 219
Great post. I agree fully. The only fight I would add would be Rampage vs. Wanderlei. Some website is claiming some of Rampage's recent brushes with the law are evidence of post concussion syndrome. Let's hope not, and that both guys can put on an epic battle.
Even though it's slight off-topic, I can't help it. What would gate receipts look like for
Fedor vs. Lesnar
?!? Especially if Lesnar wins against Couture?!? That could really put MMA over the top, and would be remembered in the same vein as Leonard vs. Hearns 1/2, Ralph Sampson's Virginia vs. Pat Ewing's Hoyas, among other epic matchups...
Quote:
I would like to list my top 3

1. Forrest Griffin vs Rashad Evans- I love Forrest's fights, they are always exciting. Rashad as of late has come to his own. I feel it's going to go back and fourth. Who wins is tough to call, I hope it's Forrest.

2. Randy Couture vs Brock Lesnar- Young vs Old, Big vs Small, Experience vs Strength, this match has soooo many ways you can look at it. Can Randy defy Father Time again, and beat the much bigger, faster, stronger, younger Brock Lesnar. Or can Brock prove to everyone, that he is the next big thing and beat one of the greatest fighters ever.

3. BJ Penn vs Georges St. Pierre- These guys have been murdering their opponents as of late. These two are arguably the two best fighters in the world. I know we've seen it before, but we haven't seen it when BJ is fully motivated. And a fully motivated BJ IMO is the best fighter in the world. This fight is going to produce a lot of fire works!

That was really really hard! I can't wait for these next months!!
Rashad Vs Forrest- The suga Train is about to stop at the lhw champion ship. I expect some clear-cutting lol.

Big Nog vs. Mir- I want Nog to be champion. This is his first step to being CHAMP champ.
---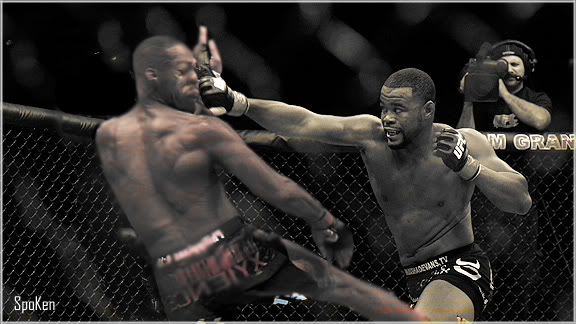 Sweet sig by Life B EZ
I feel like I get paid way to much money, but not enough -Nick Diaz
Currently Active Users Viewing This Thread: 1

(0 members and 1 guests)
Posting Rules

You may post new threads

You may post replies

You may not post attachments

You may not edit your posts

---

HTML code is Off

---