MMAWORLD Interview with Lyoto Machida
---
From a magazine (got this off of mmalinker.com)
Quote:
INSIDE THE DRAGON
By RJ Clifford

Lyoto Machida is something an enigma in MMA who was introduced to the sport by Japanese pro wrestling legend and promoter Antonio Inoki. As the son of a Japanese-Brazilian Shotokan karate master, Machida took up karate at age four and has always maintained a deeply-rooted connection with traditional martial arts.

After winning his 2003 debut over Pancrase gatekeeper Kengo Watanabe, Machida bounced from facing K – 1 alums Sam Greco and Michael Macdonald to real contenders like B.J. Penn and Rich Franklin (his first loss). Machida defeated them all. The man nicknamed "The Dragon" soon found himself with a revitalized World Fighting Alliance that lasted all of one show. Then as part of the Zuffa buyout (which included Quinton "Rampage" Jackson), he soared through the light heavyweight ranks.
As a counter fighter, Machida won three straight by decision only to face another new, hot prospect in Rameau Thierry Sokoudjou. Many people didn't give Machida's reactionary style a chance against the judo expert; everyone was shocked by his buzz-saw through Sokoudjou's defenses to eventually submission victory. Now with a marquee win over Tito Ortiz, the undefeated Japanese-Brazilian is poised for bigger paydays and tougher competition. Between reading books (his favorite pastime), he was kind enough to answer a few questions.

MMA Worldwide: How did you meet Antonio Inoki?

Lyoto Machida: Inoki came to Brazil looking for fighters for his new league. My father was good friends with his family so we met. He liked me and invited me to a test. After that, I ended up fighting for him. It was good to be part of his team and it opened up many opportunities for me.

MW : Your fighting style is very unique to MMA. What do you call it and why is so effective?

LM: We call it Machida Martial Arts Karate because we employ the real martial art of karate, which is the complete karate with takedowns, etc. It's what karate was before there were competions.

MW: While your fighting style is effective in winning fighters you have no finished many opponents recently. Does this put you at a disadvantage?

LM: I think so, but I try to find my mistakes after each fight so I can do better next time.

MW: You won your last fight with Tito Ortiz via unanimous decision, but you were almost submitted at the end of the fight. How close to tapping were you?

LM: I wasn't going to tap in that situation. Tito had a good hold, but not enough for me to tap.

MW: Where do you rank yourself in the UFC 205-pound devision?

LM: I know I`m in the top 10.

MW: You have won five in a row in the UFC including wins over some top opponents; do you feel you should be the next up for a title fight?

LM: I think I deserve a shot but that is the UFC's decision to make.

MW: Tell us about your next opponent, Thiago Silva, and what challenges he presents.

LM: He is a tough and complete fighter, but I believe in my Machida Martial Arts Karate, even though I know his back ground
in jiu-jitsu.

MW: Where did you grow up and what was it like as a kid?

LM: I grew up in Belem, Brazil. It was a small city at the time, so I was able to have a great time playing with my friends on the street, something you don't see there anymore. I was able to have a great childhood.

MW: What is your family life like?

LW: We live a simple but comfortable life. I am very happy to live around my family.

MW: Anything else you would like to say to your fans?

LM: I thank my fans for their support. I apologize if I can't always please them in all my fights, but I will try because I know how much they care.
---
Last edited by N1™; 10-13-2008 at

01:15 PM

.
Super Heavyweight
Join Date: Feb 2008
Posts: 4,079
I feel sorry for Machida.

He's a real quality fighter who just happens to be in the most stacked division of any organisation in MMA.

As long as he keeps winning his fights though it will be hard for UFC to ignore his title credentials.

That being said I'm a massive fan of Thiago Silva and could see their match up being a close, quality fight.
Damn Machida is more boring than his fights... Seriouly he is a great fighter, but I dunno if he'll ever be champ simply because the UFC wont give him a shot due to his elusive style and lack of charisma that most champions possess.
Featherweight
Join Date: Apr 2007
Location: Germany
Posts: 1,461
After reading this I cant wait to see his fight to see more of his martial arts karate.
---
FightingIsBelieving

Nichts reimt sich auf Uschi!
Nothing rhymes on Uschi!

Wer ist hier noch Deutscher ausser mir?
Man, Machida to me.. isn't going to be Champion anytime soon. He's waaaaaaaaaaaaaaaaaay to boring for me.

I think he could be Champ, but the UFC doesn't want.. HIM to be champ.
---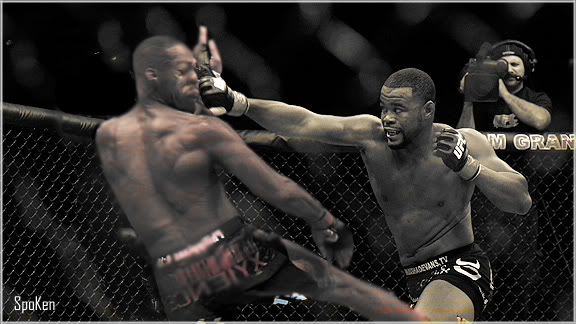 Sweet sig by Life B EZ
I feel like I get paid way to much money, but not enough -Nick Diaz
The UFC can't deny him a shot forever. If they do, they are just compromising the integrity of the sport and will be a bunch of hypocrites.
I like Machida. There were rumors that he would appear as a guest trainer on TUF, but then somebody claimed that he doesn't get along with Minotauro very well, so maybe it's a false rumor. It would be fun to see him sparring a little with the boys.
Humble, as ever. Hope he gets his shot soon.
---
Last edited by T.Bone; 10-15-2008 at

06:56 AM

.
Currently Active Users Viewing This Thread: 1

(0 members and 1 guests)
Posting Rules

You may post new threads

You may post replies

You may not post attachments

You may not edit your posts

---

HTML code is Off

---