Banned
Join Date: Jul 2007
Location: Backseat of the PlazzVan
Posts: 6,472
***Official UFC 89 Paul Taylor vs. Chris Lytle Discussion Thread***
---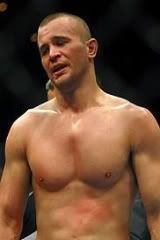 Conduct all of your pre & post-fight discussion on this Welterweight matchup as Paul Taylor takes on Chris "Lights Out" Lytle in
HERE, ALL
other threads concerning this fight
WILL BE MERGED INTO THIS ONE
.
Thanks guys.
MLS
I'll start this one off. This is going to be possible FOTN. Taylor has the some of the best hands in the UFC, concerning boxing, speed and accuracy ... as good as Silva in my opinion. He's also fearless and will engage like a wild man. Problem is ...no ground game. If lights out decides to stand and trade with this guy then he'll live out his nicknam thats for sure. CL needs to take him to the matt to win in my view.

I remember when paul kelly and paul taylor banged for 30 seconds or so in the first round...kelly changed his mind very quickly about standing and trading. That was also one of the best starts i've seen to a fight!
---
Ramon Dekkers (to me ... the best fighter ever) + Anderson Silva + Renato "Babalu" Sobral + Chuck Lidell + Peter Aerts + Forrest Griffin + Nick Diaz + Roger Huerta + Paul Taylor (get a ground game please) + Lyoto Machida + Gonzaga = LIGHTS OUT!
Lytle takes this one via a guillotine in the 2nd.
---
[
Middleweight
Join Date: Jun 2008
Location: Alabama
Posts: 2,898
i think this will be a great fight i hope paul taylor wins....not sure yet how but i think its gonna be a good one
I'm pumped for this fight, more then Bisping/Leben even. If they stand, Taylor KO's Lytle....no one stands with Taylor and wins. Ask Paul Kelly or Marcus Davis, they felt the wrath and changed gameplans quickly.

Lytle wins this on the ground though, too much experience and Taylor is known for this being his weakness. Again, ask Kelly/Davis.

They're both fun as hell to watch though but ill predict Taylor by KO round 2.
Banned
Join Date: Jun 2006
Posts: 4,466
Don't read if you don't want to know who won yet....
Banned
Join Date: Dec 2006
Location: England
Posts: 1,656
Great fight, FOTN in my mind.
Definitely FOTN!
---
Favourite Fighters:
1- Georges St-Pierre
2- Wanderlei silva
3- Anderson Silva
4- Frank Mir
5- Dan Henderson
6- Josh Koscheck
7- Karo Parisyan
8- Jason Miller
9- Jens Pulver
10- Antonio Rodrigo Nogueira

Forum Bets : 23-4
Banned
Join Date: Sep 2008
Posts: 250
That was a war I feel bad taylor lost because he put up a hell of a fight and got some awesome shots in
Currently Active Users Viewing This Thread: 1

(0 members and 1 guests)
Posting Rules

You may post new threads

You may post replies

You may not post attachments

You may not edit your posts

---

HTML code is Off

---