Quote:
Kenny Florian vs. Joe Stevenson is a TERRIBLE matchup...

what if joe wins? no one wants to see him get mauled by BJ again, and he Florian (one of the biggest LW contenders) is no longer a contender....stupid stupid fight

Florian has done enough to earn a shot @ BJ....
BJ abandoned the division.
Winner of KenFlo/stevenson still has to face the winner of Sherk/Griffin before BJ gets his ass back where he belongs for a title defense. Hell they might fit in another fight if he gets injured by GSP.
Quote:
Fabricio Werdum vs. Junior Dos Santos-
this.
---
mad props: Toxic
Super Heavyweight
Join Date: Feb 2008
Posts: 4,079
Joe Daddy has nothing on Kenny. Kenny should be able to tear through Joe. I know most people will disagree but you shall see.
Randy vs lesner...very bad one..if randy wins lesner falls to 1-2 in UFC and that will look bad...and if lesner wins then no randy vs fedor...who would wanna see that now
---
"i've never lost a fight i didn't want to lose" - Matt Hughes
Rashad Evans for Forrest Griffin.

Serious mismatch, I feel soooooooo sorry for Forrest. This fight won't even be close.
---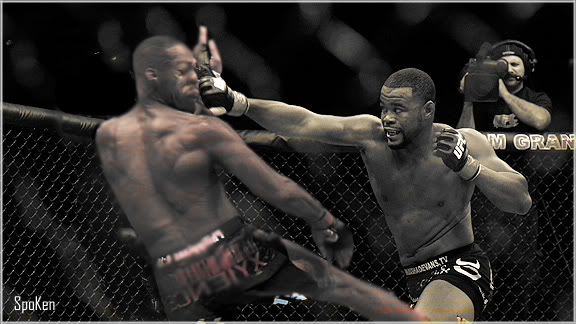 Sweet sig by Life B EZ
I feel like I get paid way to much money, but not enough -Nick Diaz
Currently Active Users Viewing This Thread: 1

(0 members and 1 guests)
Posting Rules

You may post new threads

You may post replies

You may not post attachments

You may not edit your posts

---

HTML code is Off

---