Bantamweight
Join Date: Jan 2008
Posts: 512
With the way the video is edited (the stops in filming) it's most likely that someone is feeding her these things to say. I'm guessing it's just a father and daughter thing. (maybe mother daughter). Cute kid though it's deff a good way for someone to get there predictions heard. I mean people would rather watch a cute kid talking like a grownup about MMA then just watching some random guy.

She might have a future in broadcasting?
some one is feeding her the material.
---
Fav. Fighters

1. Georges St. Pierre
2. Quinton Jackson
3. Anderson Silva

"If Your Not Cheatin, Your Not Tryin Hard Enough" Tito Ortiz
Forum Bets
54-15
haha if this girl wasnt coached she pretty much kicks ass xD
good picks
---
If a law is unjust, a man is not only right to disobey it, he is obligated to do so. ~ Thomas Jefferson
Sig by D.P.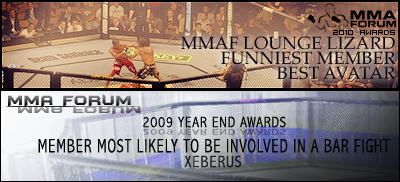 Matt and I have worked with her on YouTube. We both love making predictions videos so we try to support each other whenever possible.

She really is pretty knowledgable with her MMA and does a good job with the videos. I don't believe anyone is "feeding" her the lines to say. She makes you pay attention which is cool. I have to pound Red Bulls while watching some of these other prediction videos.

If that was my daughter I would cry joyful tears.
That chick seriously talks out of the side of her mouth. She reminds me of a friend of mine that has partial paralysis in his face.

"Brandon, you better win or I will CUUUUT YOOOUUU." She seems pretty trailer-trash.
---
Defecato, ergo sum.
Leading the Thiago Silva bandwagon
the glrs knows here stuff, but she is fuking annoying, and she hates bisping what a bitch lol
but she is 12 so i gotta give my props to her
Super Heavyweight
Join Date: Feb 2008
Posts: 4,079
that chik is annoying lol
Haha that was funny. Definitely Kudos to her if it was legit. Her predictions were pretty good & the editing was mint. I imagined sitting watching an event with her flying all over the room with these random comments..........
I passed by that video for a few days and then I finally clicked on it and she's pretty funny actually and pretty good in front of a camera for her age.

I don't think she has a clue who should win and not though.
Currently Active Users Viewing This Thread: 1

(0 members and 1 guests)
Posting Rules

You may post new threads

You may post replies

You may not post attachments

You may not edit your posts

---

HTML code is Off

---