MMA Fanatic
Join Date: Oct 2006
Posts: 4
Check Out My Photos with the UFC Fighters
---
If anyone is interested I posted some of my stories and photos with some of the UFC fighters from the 3 events when they came to Ohio. If anyone has a chance to meet any of them, they are all very cool.
Check them out at:
http://www.meetthefamous.com/user_pr...p?username=292
Awesome pictures man, cool to read all the nice stories about the fighters.
---
Right kick, Hospital.
Left kick, Cemetery.
-Mirko Cro Cop.
Ha, that one with Anderson is sweet
---

Gonzaga vs dos Santos - UFC on VS
Vera vs Jones - UFC on VS
Bibs vs Hansen - Dream 13
GSP vs Hardy - UFC 112
Gomi vs Florian - UFN 21
Nelson vs Struve - UFN 21
Super Heavyweight
Join Date: Feb 2008
Posts: 4,079
Yeup, gotta agree, the Silva one is sick. My favorite has to be the Kevin Smith one, that is damn funny. So what is it that you do that you get to meet all these people?
MMA fighter

Join Date: Oct 2006
Location: West Carrollton, Ohio
Posts: 2,575
Man photoshop is cool. sorry I had to be the @$$hole who made the photoshop joke.
MMA Fanatic
Join Date: Oct 2006
Posts: 4
Quote:
Man photoshop is cool. sorry I had to be the @$$hole who made the photoshop joke.
Ha Ha, There is always someone that makes the photoshop comment
My response is that if they were photoshop, I would have a photo with Al Pacino and Jack Nicholson.
It doesn't take much to meet the fighters, and for the most part they are all very nice. Not sure how easy it is in Vegas, but Ohio is cake.
Megaweight

Join Date: Apr 2006
Location: Everett, MA
Posts: 5,961
Damn dude, how the hell you meet so many famous people. Ive only met like four in my life. I had a table at this club District in Boston and Jeter had one right next to me. I also met Josh Beckett and Big Papi at this club in Boston Rumor. Its cool seeing them drunk and shit. But Ive never met as many as you. Angelina Jolie, damn bro im jealous! What do you do, hunt them down?? LOL
---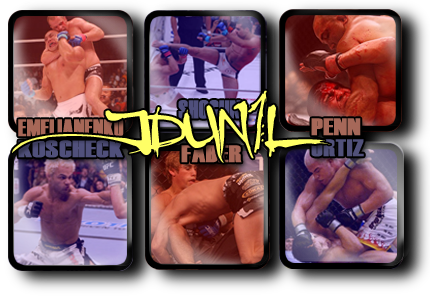 Mancrushes
1.Shogun
2.BJ
3.Fedor
4.Kos
5.GSP
Im in Porno's
haha, how the hell did u think of getting a photo with Silva thai clinching you?!

haha..

so good!
---
Shogun is my homeboy.
Good stuff, and you got to hold the belt!
---
Demian Maia may be the Fred Astaire of jiu-jitsu, but it's too bad Silva is the Gene Kelly of kicking everyone's ass.
Currently Active Users Viewing This Thread: 1

(0 members and 1 guests)
Posting Rules

You may post new threads

You may post replies

You may not post attachments

You may not edit your posts

---

HTML code is Off

---