Banned
Join Date: Jun 2006
Posts: 4,466
Gina Carano fighting in the UFC is a possibility
---
http://www.bloodyelbow.com/2008/10/3...-day-dana-whit
Quote:
"Gina Carano's a talented fighter...She's a star. She should've been the main event (on CBS' last EliteXC broadcast). My thing with women and fighting is there isn't enough good women to create a whole division. Could I do some one-off fights here and there? Yeah, but that's not really what we do."

--
Dana White
talking to USA Today about Carano, Strikeforce and a potential relationship between the female phenom and West Coast promotion.
I'd be happy seeing a fight ever so often, they don't have to create a whole division, but I think there is probably more talented fighters out there than he thinks
A fight with her and Cyborg in the UFC could really bring the sport into the mainstream. Although it would feel more like an exhibtion match with no real significance to me personally if there is not a division. And he is right, there isnt enough talent to create a womens division in the UFC. I don't think it would be fair to make a womens and leave out something like featherweight.
Personally I don't like seeing women fight...

I'm happy to see men bang it out, leave bloody etc. but not women, I believe men are fighters naturally, women aren't
---
I've sort of been won over by watching a few of her fights out of curiosity.
I originally thought of her as just another attractive women being promoted in sport with mediocre talent but her Muay Thai skills are better than many men I see fighting in the UFC, she's a very talented and exciting fighter.

I would watch more women fights if I thought there were other fighters at her skill level.
Still not comfortable with watching women try and smash each other in the face though.
I must admit that most womens MMA fights I have seen was very good, but for me its just difficult to see a woman fighting with blood on her face. It does'nt bother me to see mens blood but I just don't believe in watching women fight and bleed on TV. Just how I feel.
---
Right kick, Hospital.
Left kick, Cemetery.
-Mirko Cro Cop.
International Stalker
Join Date: Nov 2006
Location: San Diego
Posts: 5,203
For me it's all about skill, and entertainment value. I don't care about seeing woman bloodied up or anything in this context.

Although, that did sound like Carano won't be fighting in the UFC, at least, for now.
---
Credit to ThaMuffinMan
Megaweight

Join Date: Apr 2006
Location: Everett, MA
Posts: 5,961
I agree with alot of you guys. I just hate watching women get beat up. It really makes me cringe. I believe they have the right to be fighters if they choose, but id rather not watch. Especially a beautiful girl like Gina. Who the hell wants to see her all cut up and bloody?? I dunno man, I just dont like it.
---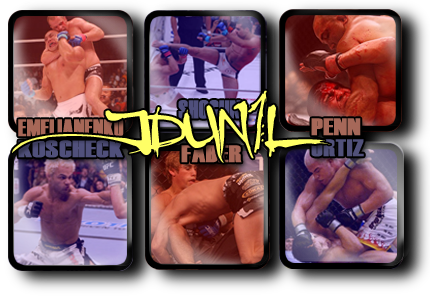 Mancrushes
1.Shogun
2.BJ
3.Fedor
4.Kos
5.GSP
Im in Porno's
Think we're all on the same boat. Since the dawn of time the male species have been the gladiators, soldiers, and hunters. Besides the Amazons it should remain that way for the most part, but hey if they want to fight so be it. Times have changed.
Curitiba Food and Liquor

Join Date: Dec 2006
Location: NY
Posts: 16,176
She may not be fighting in the UFC anytime soon, but it sounds to me like Dana may finally be figuring out the $$$$$$ potential.
---

Sig Credit to Toxic

Its definitely harder to look at women getting beat up just as its harder to put up with a woman who's fallin around drunk than it is with a man. Thats always going to be that way for our generation but the roles seem to be slowly reversing so i say let them fight. Plus Gina is a fox so we can all watch her weigh in, walk out and get introduced. Then go outside for a beer.
---
I reckon i'd have jon jones
Currently Active Users Viewing This Thread: 1

(0 members and 1 guests)
Posting Rules

You may post new threads

You may post replies

You may not post attachments

You may not edit your posts

---

HTML code is Off

---