Banned
Join Date: Jul 2007
Location: Backseat of the PlazzVan
Posts: 6,472
WEC 37: Torres vs. Tapia Discussion Thread
---

WEC 37: Torres vs. Tapia
Date: 12/3/2008
Event Type: VERSUS Live Event
Location: The Joint - Hard Rock Hotel & Casino, Nevada
Fight Card:
Bantamweight bout:
[34-1]
Miguel Torres
(c) vs.
Manny Tapia
[10-0-1] -
WEC Bantamweight Championship
Bantamweight bout:
[6-0]
Brian Bowles
vs.
Will Ribeiro
[10-1]
Featherweight bout:
[10-1]
Wagnney Fabiano
vs.
Akitoshi Tamura
[12-6-2]
Lightweight bout:
[29-11]
Bart Palaszewski
vs.
Alex Karalexis
[9-3]
Featherweight bout:
[12-2]
Cub Swanson
vs.
Hiroyuki Takaya
[9-5-1]
Lightweight bout:
[4-1]
Shane Roller
vs.
Mike Budnik
[7-0]
Welterweight bout:
[3-0]
Johny Hendricks
vs.
Alex Serdyukov
[8-4]
Bantamweight bout:
[9-0]
Joseph Benavidez
vs.
Danny Martinez
[12-2]
Featherweight bout:
[12-1]
Josh Grispi
vs.
Diego Nunes
[11-0]
---
Last edited by N1™; 11-30-2008 at

04:41 AM

.
I can't wait for this card! We get to see Torres/Tapia, Fabiano's WEC debut and I think Palaszewski/Karalexis could be good.
---
[
The BW's are always completely exciting. I also cannot wait for this fight, Torres is one of my favorite MMA dudes. I do think he will take this.
---

attention whore
Join Date: Oct 2006
Location: Branson, Missouri
Posts: 14,445
WEC, once again, brings the awesome. How badass is Fabiano vs Tamura going to be? Let me tell you, it'll be REALLY BADASS. Oh, you mean to tell me that Miguel Torres, top 5 P4P'er is fighting a tough, undefeated dude like Manny Tapia? Wait, Takaya, Bowles and Bartimus? Yes please!
---
This is the sort of card that makes me want to not live in the UK. This, being the first card solely focusing on the lighter weight classes, is wall to wall awesomeness.

WEC really needs to get picked up by a channel overhere. Bravo which used to have UFC has replaced it with the M-1 Challenge, which seems to be a load of not very good fighters attempting to out-useless each other. The one benefit is I got to see Aleks' mullet in action as the headline.
---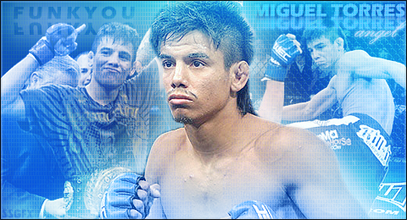 MMAFFL Record 4-1
This card IS the new WEC. They got rid of the big boys, so its all the lighter weights now. I'm really excited for December 3rd.

Most looking forward to: Fabiano vs. Tamura.
---
Natural Born Killas +44
Another seriously good WEC card, I really really like WEC more and more all the time.
---
Fedor fights I want to see..
Fedor vs. Josh Barnett
Fedor vs. Randy Couture
Fedor vs. Tim Sylvia -
DEMOLISHED
Fedor vs. Andrei Arlovski -
DEMOLISHED
hmmmmm, i wonder how many become reality..
2007
I like how the WEC is becoming the UFC's Pride Bushido.
The main three fights I wanna see are:
Miguel torres vs. Manny Tapia
From the IFL- Wagnney Fabiano vs. Akitoshi Tamura
And my dude also from the IFL- Bart Palaszewski vs. Alex Karalexis. Palaszewski has some good striking and can also submit if it goes to the ground, can't wait.
---

Banned
Join Date: Apr 2007
Location: Montclair, NJ
Posts: 11,605
Fabiano vs Tamura is the best FW mach up in the WEC's history.

Johny Hendricks making his WEC debut is exciting hopefully he performs better then Rosholt.
Currently Active Users Viewing This Thread: 1

(0 members and 1 guests)
Posting Rules

You may post new threads

You may post replies

You may not post attachments

You may not edit your posts

---

HTML code is Off

---