Featherweight

Join Date: Feb 2007
Posts: 1,152
Matt Hughes Engulfed in Scandal from Racist T-Shirt Photo
---
Not sure if this was posted yet. I am curious to hear some of your thoughts.
Quote:
UFC fans have been up in arms with the shocking image of Matt Hughes, holding what has been described as "white supremacist paraphernalia." The story broke earlier today, thanks in part to a fan reporting the news on the sports website bloodyelbow.com.

The pictures were discovered on a racist white power website, in which Hughes seems to be promoting the website's products. These pictures have been circulating like wildfire around the Internet. This only adds fuel to the smouldering heap of Hughes' reputation, which has been seriously marred by racist accusations, initially brought up by his seemingly unwarranted dislike for Rashad Evans' showboating tactics, which, in hindsight, was hypocritical considering his own team's showboating behavior.

Hughes later went on to cement his reputation for covert racism in "The Ultimate Fighter, Comeback" TV series, in which he made comments to Din Thomas about seeing his big lips flapping from this side of the room.

A spokesman from Hughes' website has told fans "this is not a big deal." On the contrary, this may very well become a PR nightmare for the UFC.

The UFC fighter may or may not of been aware of the t-shirt's racist content. The spokesman later went onto describe how, whilst at a Harley Davidson convention Hughes was given a tee-shirt to sign, the spokesman noted the "SS" symbols on the shirt, noting to himself "this could be a problem" but failed to mention this to the two-time UFC welterweight champion.

Hughes' people are now said to be working hard, possibly taking legal action to have the pictures removed from the online shop of the racist website.

However innocent this so-called lapse in judgement is, what damage could this now do to a once glittering fight career?

Damage control is needed and quickly, as this brand of ineptitude is rarely tolerated.
http://bleacherreport.com/articles/7...-t-shirt-photo
Middleweight
Join Date: Jul 2008
Location: Iowa
Posts: 2,615
damn it you cant even see what the shirt says
Featherweight

Join Date: Feb 2007
Posts: 1,152
Quote:
damn it you cant even see what the shirt says
Here is the pic from another site.
I rarely, if ever, defend Matt Hughes but I will here- it very much looks like he signed the shirt without realizing what was on it and then the website posted the picture as if Hughes sponsored or approved of them. This sheds a little more light on it:
http://www.bloodyelbow.com/2008/11/7...ng-matt-hughes
---
Heavyweight
Join Date: Apr 2007
Posts: 3,709
people will do anything to destroy someone who is successful, holy crap he held a t-shirt someone gave him. Jesus Christ.
i saw on sherdog the white boys website made a notice of saying hughes didn't endorse the shirt....and they are in no way associated w/ hughes....it was just wrong place, wrong time
Banned
Join Date: Oct 2008
Location: California, USA
Posts: 286
Matt hughes isnt a white supremecist, and even if he was, he is still one of my favorite fighters.Im white and I dont make a big stink when black fighters do racist crap.It seems people only care if a white fighter does something racist.

Again, Im not a racist or white supremecist, but these idiots are making a big deal out of nothing.I bet if rashad evans was spotted at a black panther rally, you would show support for him
Banned
Join Date: Apr 2007
Location: Montclair, NJ
Posts: 11,605
This is a bit much. Hughes took a picture with the shirt and didn't seem to know what was really going on.

I don't know why people would start calling Hughes a racist.
Megaweight

Join Date: Apr 2006
Location: Everett, MA
Posts: 5,961
I didnt need to hear about this to think Hughes is a tad racist. I dont think he "hates" all minorties but I get the vibe that hes only comfortable around people like him.
---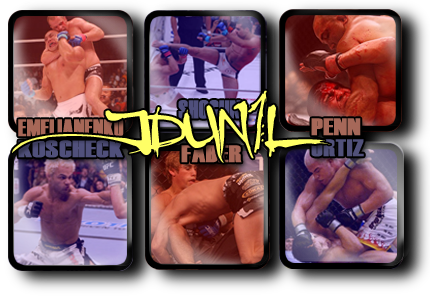 Mancrushes
1.Shogun
2.BJ
3.Fedor
4.Kos
5.GSP
Im in Porno's
MMA Fanatic
Join Date: Apr 2008
Posts: 62
this should give serra plenty to talk about. this is a lot of fuel that little rivalry.

I expect hughes to come out and vehemently defend against this, and any antagonizing comments by serra are going to send hughes through the roof
Currently Active Users Viewing This Thread: 1

(0 members and 1 guests)
Posting Rules

You may post new threads

You may post replies

You may not post attachments

You may not edit your posts

---

HTML code is Off

---